Wales flag emoji finally arrives on Apple products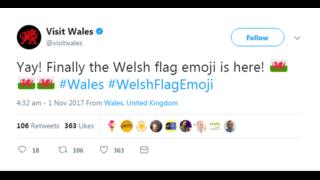 Emoji flags for Wales, Scotland and England have finally been added to Apple products.
It follows a proposal to add the flags of the home nations to the Apple emoji keyboard, led by Jeremy Burge of Emojipedia and BBC Wales' producer Owen Williams.
Unicode, the authority on computer text and characters, agreed to add the flags in May.
Apple have now added the new emojis in their IOS 11.1. update.
The proposal, submitted in June 2016, said "the United Kingdom of Great Britain and Northern Ireland is comprised of four nations, which each have their own distinct and internationally recognised flags which are not currently available as emoji."
It also referenced the United Kingdom's long history and sporting events such as the Commonwealth Games, the Rugby World Cup and the Euro 2016.
Mr Williams said: "We're delighted to see the Wales, Scotland and England flag emojis arrive at last - some 18 months after we made the proposal.
"It's a bit of a thrill to know that in our small way, a Pontypridd man and an Australian of Welsh descent have contributed something special to emoji keyboards on every device in every corner of the planet."