Premature coronary heart disease deaths 'cut by 70%'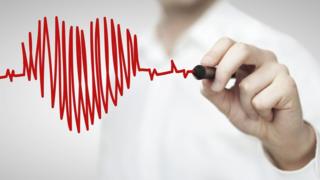 The number of people dying prematurely from coronary heart disease in Wales has been cut by nearly 70% in the past 20 years, a new report has revealed.
Cardiovascular (heart and circulatory) disease is the biggest killer in Wales, with more than 9,000 deaths each year.
Health Secretary Vaughan Gething said its study showed the Welsh NHS was making "continued progress" in improving patients' care.
British Heart Foundation (BHF) Cymru said the new stats were "encouraging".
There are about 375,000 people living with cardiovascular disease in Wales - 4% of the population - according to the Welsh Government's Annual Statement of Progress on Heart Disease report.
It showed there had been a 68% reduction in the rate of people dying from premature coronary heart disease, which includes heart attacks or angina, before the age of 75.
There has been a 20% reduction since 2009 alone.
The report said this was due to the improved detection of heart disease among GPs, the ban on smoking in public places and other public health interventions, and NHS better treatments.
But it did state there were 4,085 deaths in Wales in 2015 where coronary heart disease was the underlying cause - an average of 11 deaths a day.
Of those, more than 1,400 were people under the age of 75.
Improvements:
The number of people dying from a heart attack has fallen by 134 over the last five years, to 1,478
The number of people dying from heart failure has reduced by nearly 40% in the last five years - by 192 deaths, to 332 deaths in 2015
In 2015-16, the total number of people living with coronary heart disease in Wales was 120,620 - down 822 on the previous 12 months
Areas of focus:
Late diagnoses - there were almost 35,000 emergency admissions for cardiovascular disease in 2015-16
Improving waiting times
Reducing premature cardiac death - there are about 8,000 victims of sudden out-of-hospital cardiac arrest each year in Wales and "survival rates are low"
'Sick of doctors'
Gerald Casserley died suddenly of a heart attack four years ago, aged 63.
His wife Sheila, 69, from Cardiff, said there was a history of heart attacks in his family but she had not been concerned for her husband.
"He always suffered with what he thought was reflux and was on medication for that," she said.
"He didn't smoke, as far as we were concerned he was fit, he played golf, he had a reasonable diet. I wouldn't say he was overweight but he was a bit of a chunk."
But she said men were often reluctant to go to the GP.
"If he had gone to the doctor maybe it would have shown up," she said.
"He would say 'I'm sick to death with doctors' - most men are like that."
Commenting on the report, head of BHF Cymru Adam Fletcher said the results were encouraging but said it also showed many patients were still not being diagnosed quickly enough.
He added survival rates from out-of-hospital cardiac arrest remained "stubbornly low" but said BHF Cymru was "committed" to working with the Welsh Government and health boards to tackle those issues.
Vaughan Gething said there had been a steady decline in the rate of people dying from all cardiovascular disease in Wales, but said further improvements could be made.
"One avoidable death is one too many - we know there's more to do in treating and preventing heart disease," he said.