Winter pressures: What health boards are planning in your area
Each health board in Wales has its own plans to cope with winter pressures, developed with the Welsh Ambulance Service and local councils, which are responsible for social care.
ABERTAWE BRO MORGANNWG
Population: 523,100
Percentage of patients waiting under four hours in major A&E: 79.5% (September), 68.9% (January)
Percentage of population over 75: 8.8%
It is responsible for hospitals in Swansea, Neath and Bridgend.
Morriston Hospital in Swansea - a major trauma unit - had more than 40% of its A&E patients waiting more than four hours last December.
Its winter plan for 2017/18 identified too much bed capacity was wasted last year through unnecessary delays for patients in hospital beds and that there was also not enough capacity at times to meet peak demands in emergency departments with extended waits and on ambulances.
There were also staffing problems due to shortages in some professions.
It aims to:
Bring in additional investment in community services and three acute response teams across the health board
In hospital, as well as ongoing recruitment, emergency department processes to be re-designed to reduce delays and congestion, and improve access to specialists
Increase emergency theatre capacity and for short-stay planned surgery to reduce cancelled operations
CWM TAF
Population: 296,000
Percentage of patients waiting under four hours in major A&E: 84.5% (September), 78.7% (January)
Percentage of population over 75: 7.9%
The health board is planning to:
Introducing nine additional beds at Prince Charles Hospital to deal with emergency department capacity issues, and eight additional beds at the Royal Glamorgan - both during times of extreme pressure
Routine surgery will be reduced during the peak period of Christmas and New year
A Stay Well At Home team will work seven days a week at A&E to help with discharges and specialists will also be expected to give an opinion within an hour in emergency departments
An At-Home triage system for clinical interventions in the community, including rehab for patients leaving hospital; cluster programmes in communities around chronic conditions
A local winter pressures group will meet fortnightly
ANEURIN BEVAN
Population: 580,400
Percentage of patients waiting under four hours in major A&E: 82.4% (September), 71.1% (January)
Percentage of population over 75: 8.4%
From this time last year, hospitals experienced a 7% increase in emergency admissions - which was around an extra 70 patients a week.
About 30% of patients at A&E at one of its two main general hospitals, the Royal Gwent in Newport, were seeing waits of more than four hours.
A health board spokesman said: "We have plans in place to increase our capacity during periods of high demand.
"We will also communicate with our staff to ensure their wellbeing is supported through busy periods."
The chart above shows the peak month over the last three years for people attending emergency units in Wales was July 2017.
This included a high proportion of over 85s.
BETSI CADWALADR
Population: 694,000
Percentage of patients waiting under four hours in major A&E: 70.9% (September), 71.3% (January)
Percentage of population over 75: 9.8%
Analysis of four years worth of winter pressures saw two distinct sharp peaks in ambulance arrivals immediately after the Christmas and New Year periods.
It also found the number of discharges significantly drops at the weekend, and reduces (even more) in the week between Christmas Day and New Year's Day.
Looking to reach residents in north Wales with winter wellness messages, including promoting its Live Waits App
Two advanced paramedics will join the "out of hours" team to support GPs, district nurses and increase both response times and also hospital diversions
"Consistency" across minor injury units
Daily "safety huddle" meetings to determine bed demand and predict where additional beds might be needed
Specialist nurses and outpatient nurses to be redeployed where there are recruitment/staffing issues
CARDIFF AND VALE
Population: 481,900
Percentage of patients waiting under four hours in major A&E: 85.8% (September), 77.6% (January)
Percentage of population over 75: 7.3%
The A&E department at Wales' biggest hospital, Cardiff's University Hospital Wales, saw nearly 10,500 patients last December but bosses said it performed "fairly well" last winter when compared with the rest of Wales.
It said there was more work to do on patient flow and further scope for "joined up" working to reduce delayed transfers of care.
An additional ward will be available and it said it was "vital that the work on reducing length of stay was successful".
Proposals include:
"Enhanced resilience" of the GP out of hours service
A "rebalance" of activity from acute hospitals into the community
Promote the "home first" principle through admission avoidance and improved discharge processes.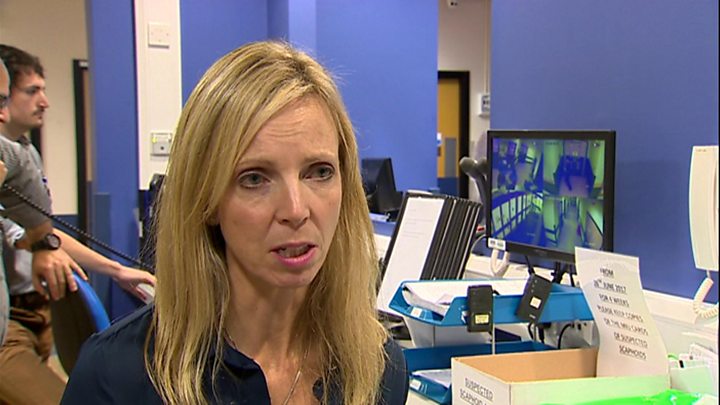 HYWEL DDA
Population: 384,000
Percentage of patients waiting under four hours in major A&E: 84.1% (September), 78.8% (January)
Percentage of population over 75: 10.2%
The main A&E departments at hospitals in Aberystwyth, Haverfordwest and Carmarthen all saw more patients attending last December than in 2015.
The health board, this time around, has already warned of issues around the "significant level of nurse vacancies".
It said due to the "inability of backfilling vacant posts this could compromise the ability to increase bed capacity or maintain current bed stock to meet the demands at the front door. There is a risk this may result in a backlog of ambulances and significant safety issues".
Joe Teape, health board director of operations, said it was normal and good practice to consider all potential risks that they were likely to face.
"We have a number of services that experience higher vacancy levels and up until now, in the main, we have managed to keep all of our services running through the hard work of our teams and use of temporary staff to backfill vacancies," he said.
"We are continuing to work hard to recruit to vacant posts and to work with all of our teams to appropriately staff the services we deliver.
"Members of the public can also help us by booking their flu jab early, using community healthcare services like their local pharmacist for minor ailments, and making sure friends, family and neighbours are being well looked-after."
POWYS
Population: 132,600
Percentage of patients waiting under four hours (no major A&E): 99.9%
Percentage aged over 75: 11.4%
There are no general hospitals in the county but the health board said it was focusing on reducing inappropriate demand on acute services and improving flow of patients in the acute care system.
Its focus is on:
Keeping people healthy and living independently in their own homes and communities as much as possible
Returning people home from acute care as quickly as safety allows, so improving the flow through the care system