Major trauma: ' I lost seven weeks after near-fatal crash'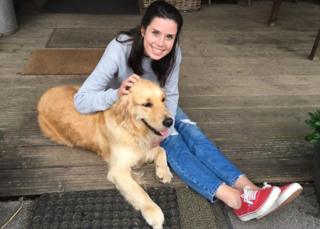 Megan Jones nearly died after a road crash in Gwynedd five years ago, when she was 17. She became the first patient from north Wales to be transferred to the then-new major trauma centre, 112 miles (180km) away at University Hospital of North Staffordshire in Stoke-on-Trent. Here, she talks about how this saved her life.
I'd gone to school like any other Tuesday and afterwards had gone to get my hair cut and the last thing my mum said to me was "be careful, there's a lot of water on the road" and I'd rolled my eyes and said "I know about aquaplaning, don't worry about me".
I'd passed my driving test a couple of months previously. I went to a job interview in a local hotel about some weekend and evening work. I remember that job interview and the last thing I remember was walking out of the hotel doors.
I was driving up the A470 on my way home and I'd almost reached a little village called Ganllwyd [north of Dolgellau]. The account of an eye witness behind me said I lost control of the car after hitting water. The rear end of the passenger side of the car spun round, hit the side of the kerb, the car flipped into mid-air and barrel-rolled down a steep ravine into a field.
April Jones had gone missing in Machynlleth the day before and a mountain rescue team were on the way down to search for her and they stopped and were the first on the scene with medical equipment.
I've been told the car was on its side, the engine had come out completely and was about 10m away. There was a round dented mark in the windscreen where my head had collided with it, despite me wearing my seatbelt.
The mountain rescue got me out though the sun-roof, my pulse was very weak so they gave me some adrenalin and carried me up to the road on a stretcher. The air ambulance was called because it was obvious I had some quite serious head injuries.
The day before my accident, on 1 October, Betsi Cadwaladr health board had signed a major trauma contract with Stoke-on-Trent meaning that major trauma victims from north Wales would go to Stoke's major trauma centre. I was originally flown to Ysbyty Gwynedd where they scanned me. My parents and younger sister arrived there. They sent the scans to Stoke and Stoke said "send her over".
I was then transferred over by land ambulance. I think the ambulance actually got lost at one point trying to find the hospital because it was all so new and I was the very first patient. I arrived in Stoke and was admitted to the ICU.
I've lost seven weeks where I don't remember anything. The first few weeks were very touch and go. The head injury was what they were most worried about. Because I'd been chucked around the car so much, I sustained some haemorrhaging, cerebral edema and injury widespread over the brain; I'd also broken my neck in three different places and the bones around my left eye and the base of my skull.
If it wasn't for the major trauma contract I would have gone to Walton [in Liverpool] with my head injury. But five days after my accident, I was deteriorating rapidly, no-one knew what was going on, my abdomen was distended. They had to take the risk of taking me in for a scan, and that in itself was risky enough. Before, they'd told my family to come in and say goodbye because they thought I was going to die.
I survived the scan and they found two thirds of my small intestine had become ischemic [the blood supply to my tissues became restricted] and so in the early hours of the morning, they operated and removed two thirds of my small intestine.
No-one expected me to survive the operation but, miraculously, I did. But if it wasn't for being in Stoke at the major trauma centre, who knows what would have happened. If I was in Walton, they would have had to move me or import surgeons and probably it would have been too late by then.
I spent six and half weeks in the critical care unit in Stoke, which I don't remember. I had some hallucinations, which I vaguely remember. I spent 10 days in a neurology ward where I started to remember - distant, dreamy memories. I was transferred to Heywood rehabilitation centre [in Greater Manchester] which specialises in neuro rehab.
But my recovery has been completely miraculous. My parents were first told I was going to be in a permanent vegetative state. But when I started to slowly regain consciousness, they were told you won't be getting the same Meg back because she's going to be severely handicapped because of all the head injuries.
I have faith - that faith was not strong before the accident but my first memory, my first feeling was one of complete peace and knowing this had happened for a reason. I knew what had happened because my family had been telling me, throughout the coma and after I was awake. All these miracles and coincidences leading up to the accident - what are the chances? I believe that's down to a higher power, to God.
But, ultimately, major trauma was something that was so key to my recovery as well.
It absolutely makes a huge difference. With major trauma victims, it's not a straightforward one injury. I was a polytrauma victim, it was a catalogue of all these different injuries and complications.
Being in a major trauma centre, and having the expertise in the various injuries, was the key to giving me the correct and highest standard of treatment for my recovery.
Meg is now in her third year studying to be a nurse.