Bailiff use by Welsh councils varies widely across country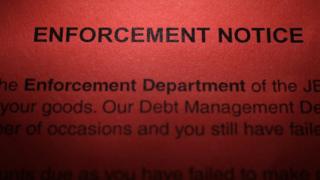 The use of bailiffs by Welsh councils varies widely across the country, figures obtained by a charity show.
In Denbighshire and Torfaen use went up by 81% and 80% respectively, between 2014/15 and 2016/17, while in Conwy and Cardiff use went down by 92% and 54%.
The figures come from a Freedom of Information request by the Money Advice Trust to councils in England and Wales.
The body representing councils in Wales said it was "not in anyone's interest to incur additional costs".
Bailiffs, also known as enforcement agents, have the right to visit a property to remove and sell goods to repay certain debts, including council tax arrears, parking notices and other debts owed to councils.
Of the 18 local authorities in Wales that supplied figures for the charity's Stop the Knock report, allowing a comparison between the two financial years, 13 councils increased their use of bailiffs, while five councils saw a drop in their use.
Blaenau Gwent council did not supply any figures, while Anglesey, Pembrokeshire and Swansea only provided figures for one year.
Across the whole of England and Wales, bailiffs were called in by councils to collect debts on more than 2.3 million occasions last year.
The referrals to bailiffs in Wales - from 21 of the 22 councils that responded - accounted for just 3% of this, a total of 62,546 referrals.
The trust, which runs National Debtline, said those 21 councils all signposted residents in financial difficulty to free debt advice.
'Deeply troubling'
Eight councils said they had a formal policy in place covering residents in vulnerable circumstances, with one other council currently drafting a vulnerability policy.
The charity said: "The growing use of bailiffs to collect debts by many local authorities is deeply troubling.
"Bailiff action should only ever be used as a last resort, and can be avoided by early intervention, making sure residents get the free debt advice they need, and agreeing repayment arrangements that are affordable and sustainable.
"The good news is that many councils are working hard to improve."
The Welsh Local Government Association said: "Recent research published by the Welsh Government noted that councils stated that the use of enforcement agents should be limited as it was not in anyone's interest to incur additional costs.
"Early engagement is essential to prevent enforcement action but this is heavily reliant on council tax payers contacting their local council to ensure they are receiving all the help available to them and for effective signposting for specialist debt advice to take place at the earliest opportunity."