Dad supported by children's hospice to head up Tŷ Hafan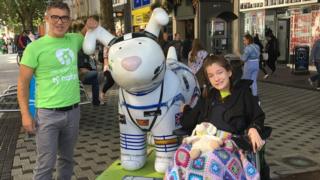 The father of a young girl with a life-limiting condition has been appointed to head up the charity that has helped his family for the last five years.
Rob Jones, 50, from Crickhowell, in Powys, first visited Tŷ Hafan's hospice in 2012 for a respite break from the 24/7 care of Poppy, now 12.
Now he is chief executive of the team he calls "our extended family".
The charity's chairman Martin Davies said Mr Jones would bring "a unique insight" to the job.
Mr Jones said - together with his wife Rachel and Poppy's siblings Izzy, 23, Sam, 21, Charlie, 17, and Alfie, 14 - he had felt the family had "no-one turn to in a crisis" and was "exhausted and desperate" by the time they were referred to the hospice in Sully, Vale of Glamorgan.
"You can spend a lot of time explaining your experiences to people and, unless people have actually experienced that, there's always a gap of understanding," he said.
Their first short break at the hospice was the "first time we were able to stay somewhere as a family" and it "felt like a family holiday", he said.
"My wife Rachel and I didn't have to get up in the night to look after Poppy, we had lovely home-cooked food and we could spend time with our three boys and our other daughter."
Mr Jones said the charity had also supported the family through the difficult times and helped them make Poppy's life full of joy, fun and precious moments with her loved ones.
"We were told Poppy wouldn't live to see her first birthday, then her fourth.
"She's now 12 and has done so many amazing things - including taking part in Tŷ Hafan's Rainbow Run in a bathtub on wheels."
Mr Jones, a chartered accountant with both charity and commercial sector experience, said his determination to help the charity provide the best possible care for families across Wales was driven by his experiences as a father.
"My goal is for the care that we provide to become a right for every child and every family that needs it.
"The best place to receive care is actually in the family home. It's going to be quite a journey for us to achieve that, but it's what's best for families.
"In the meantime, we've got our fantastic hospice and our community team is growing."
Charity chairman Mr Davies said Mr Jones' first-hand experiences gave him "a unique insight into where the charity needs to invest its resources and how we can achieve our mission of providing the best possible standard of care to families across Wales, ensuring a short life is a full life".