'Potent' psychoactive drugs on the rise in Wales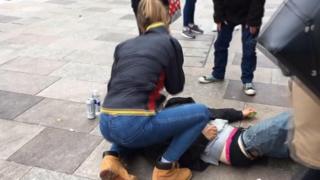 Synthetic cannabis drugs such as Spice and Black Mamba are on the rise in Wales, health officials have warned.
Samples tested showed there were fewer types of new illegal psychoactive drugs being sold in Wales - but those being dealt are 'ultra potent' varieties.
Public Health Wales said it has led to more hospital admissions - and more deaths.
However, the most common drug found in tests by the Wedinos project in Wales was still cocaine.
The project allows drug samples to be submitted anonymously for analysis, and helps paint a picture of what types of drug are in circulation in Wales.
In its annual report published on Friday, Wedinos revealed that over 1,345 drug samples were passed to it for testing in 2016-17 - revealing about 125 different substances.
The number of drug types is down 23% on 2015-16, when 163 different drugs were indentified.
While cocaine and the sedative diazepam topped the table for the most commonly used drugs tested by health laboratories, synthetic cannabis products came in at number three.
The tests also revealed two specific types of new psychoactive substances (NPS) were being dealt - which have the official labels 5F-ADB and AMB-FUBINACA.
These powders, most often made in laboratories in China, are mixed with herbs and sold on the street as Spice and Black Mamba.
"New psychoactive substances coming on to the market in Wales and across Europe pose a number of threats, with users at risk of actual harm," said Josie Smith, from Public Health Wales.
"It has never been so important to encourage all individuals using or considering using drugs to be well informed, aware of what they may be taking and of ways to reduce harm to themselves and others."
All types of NPS were made illegal in 2016 following mounting concerns about their use.
Official figures have revealed that 123 people died in Wales and England in 2016 using NPS drugs.
However, the toll is a fraction of the deaths related to heroin or morphine, which were 1,209 in 2016.
But health officials said the rise in ultra-potent NPS drugs had led to a "substantial increase in hospitalisations" in Wales.
The Wedinos project also identified a rise in other drugs coming into Wales - including a number of samples of the super-strength opiate fentanyl, which has been responsible for an epidemic of overdose deaths in the USA.
In one case, it even found a sample of the similar drug carfentanil - which is so strong, it is used to sedate elephants.
"The work of Wedinos has never been more important in evidencing the shift in drug markets and the impact on individuals," added its project manager, Dean Acreman.