Erasmus loss post-Brexit 'would be massive' in Wales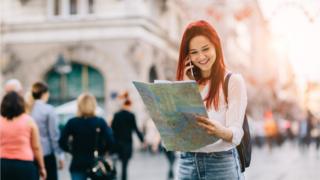 Wales faces a "mountain to climb" if access to European study opportunities is not secured post-Brexit, a founder of Erasmus has said.
Erasmus, the EU-funded study-abroad programme, celebrated its 30th year at the Senedd earlier this month.
Co-founder Dr Hywel Ceri Jones said there would be a "formidable challenge" if Brexit blocked UK access to it.
The Welsh Government said it had "pressed for assurances" over continued participation.
And the UK government said while its future access to the Erasmus+ programme was subject to negotiations with the EU, it wanted to ensure UK citizens could "continue to benefit from opportunities for cultural exchange".
Millions of students across Europe have taken part in Erasmus since its inception in 1987, with the exchange scheme allowing students to study at thousands of educational institutions across more than 30 countries.
However, its future in the UK is uncertain until Brexit negotiations have been completed.
Dr Jones, a founding father of Erasmus and former Director General for employment, social policy and industrial relations for the European Commission, celebrated an increase in applications from Welsh schools to the programme's latest incarnation, Erasmus +, at the Senedd earlier this month.
However, he said the scale of Erasmus was "not widely appreciated" and it was "vital" for the Welsh and UK governments to "appreciate these extra dimensions which provide levers to improve the quality of our education and training in Wales".
"The Welsh authorities will have a massive mountain to climb if it has to replace the range of European and international partnerships to help ensure that our young people at all levels are equipped to succeed in our globalised and globalising world," he said.
"The Welsh Government has in principle recommended continuing with Erasmus, if Brexit happens, but we don't know what the UK position will be. I want to support the Welsh Government but their efforts are in isolation of what the UK government is doing."
Dr Jones, honorary fellow at Aberystwyth University, said Erasmus+ was often misrepresented as an inter-university scheme only, when it also encompasses schools, vocational training and educational reform.
Of the future uncertainties, he added: "Don't fall into the trap of thinking this is about money.
"It is about the architecture of the programme... the orchestration and networking and wider conversations about reform of education in different countries that can inspire each other, which Erasmus is a catalyst for."
Funds already awarded this year have been shared by 41 Welsh organisations: 3.5 million euros to universities, 2.6 million to schools, 2.2 million to the vocational education and the training sector, and 362,000 euros to youth work organisations.
Non-EU countries participating in Erasmus include Norway, which has accepted freedom of movement as part of its relationship with the EU.
Switzerland takes part in some exchanges by arranging a series of bilateral agreements with individual European universities, funded by the Swiss government and individual scholarships.
Universities UK, which liaises between academic institutions sending and receiving Erasmus students, is calling on the UK government to ensure future academic and student mobility, regardless of the immigration status of EU nationals after the UK has left the EU.
The UK government has confirmed it will underwrite grant agreements for Erasmus+ signed while the UK is still a member state, but the future of Erasmus+ grants will depend on the outcome of the Brexit negotiations.
Rowan McCaffery, a student from Llanelli at Swansea University, went to Chuhai in South China in February 2017 to study international journalism through Erasmus+.
"I was really unsure about leaving home for that amount of time," Ms McCaffery said, stressing that she had never lived away from home in university halls, let alone in China.
"I would have loved to travel anyway but as a low-income student it wouldn't have happened for a long time. I would have had to work for a long time to make it happen, so the funding really helped."
Keri Bosley, head of languages at Crickhowell High School in Powys, said: "Our students were the first group to go over to Finland as part of our Erasmus+ project, Roots and Wings, a trilateral partnership with Finland and Austria.
"There is no doubt that this boosted their confidence and took them outside their comfort zones."
The Welsh Government said its Brexit white paper "clearly set out" its belief Wales should continue to be part of programmes such as Erasmus+.
"We have made our views clear to the UK government and pressed it for assurances that current levels of investment and involvement in programmes such as these continue alongside the free movement of researchers," a spokesman added.
"Science, research and innovation are hugely important to Wales and we do not want to see our universities and businesses cut off from vital funding; see an exodus of researchers or be unable to attract talent from across the world."