Ceredigion coastal path shut by huge crack re-routed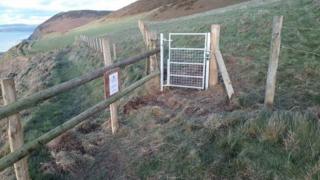 Part of the Wales Coast Path closed after a large crack appeared earlier this month has been re-routed.
The crevice in a section of path between Wallog and Clarach, Ceredigion, was caused by storms.
At the time, Ceredigion councillor Paul Hinge said there was a 40ft-drop (12m) from the path to the rocks below.
A council spokesman said: "An alternative route has been negotiated which allows the public to safely bypass the affected area."
A council spokesman said the route was now "once again open and available".
He added: "The speed with which the issue has been dealt with is testament to the hard work of council officers and contractors and the support and cooperation of the local landowner."
On his Facebook page, Mr Hinge said: "This is a very well used stretch of the coastal path and it was devastating for users to see it starting to crumble away... good management and relationships have ensured this path is open for use."