Wales' hospitals 'need satellite breast milk bank'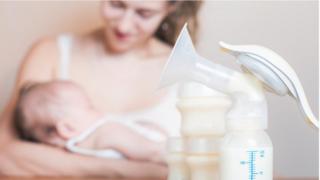 Wales needs its own satellite breast milk bank so hospitals can get it to premature and sick babies faster, a milk bank manager has said.
Wales has 11 neonatal units and is the only UK nation without a milk bank.
Hospitals in Wales rely on charity Blood Bikes Wales or specialist couriers to deliver breast milk from centres in Chester and Birmingham.
The Welsh Government said it was committed to increasing breastfeeding rates.
Donor breast milk is used to feed sick and premature babies when their mother's milk is not available.
Women in Wales who donate their milk have it collected and taken to banks in England to be screened and processed.
The Welsh Neonatal Network's clinical guidelines say breast milk expressed by an infant's own mother is the gold standard and pre-term formula should only be used when the mother's milk and donor milk are not available.
Jackie Hughes is strategy manager for the North West Human Milk Bank in Chester, Cheshire. It is self-funded and sells donated breast milk to hospitals on a not-for-profit basis.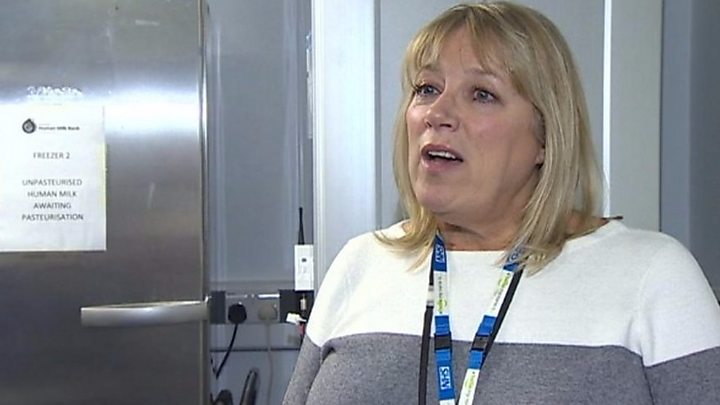 She said the bank was regularly collecting and delivering milk to Wales and, while getting to nearby north Wales was straightforward, south Wales was more challenging.
"South Wales and north Wales is divided by a very low populated area, lots of country roads that present a challenge," she added.
"To get milk down to Cardiff, we're very reliant on the blood bikers and they're very reliant of weather conditions.
"The problem is, south Wales hospitals might ring on a Friday, as happened recently, wanting the milk that day.
"If we didn't get it to them that day then they'd spend the whole weekend without it.
"To have a satellite there that held some of our pre-prepared milk would be really valuable because it would improve the accessibility to it and, therefore, encourage more hospitals to want to use it because they know they can access it immediately, therefore, giving the premature babies the maximum benefit."
She said the ideal location for a satellite would be a neonatal ward that operates 24 hours, seven days a week.
It would consist of a freezer containing pre-processed breast milk and would need to be checked twice daily to ensure the milk remained frozen at the correct temperature.
To keep costs low the milk would be screened and processed in Chester, she added.
The North West Human Milk Bank already has satellites in Hull, Preston, Sheffield and Manchester.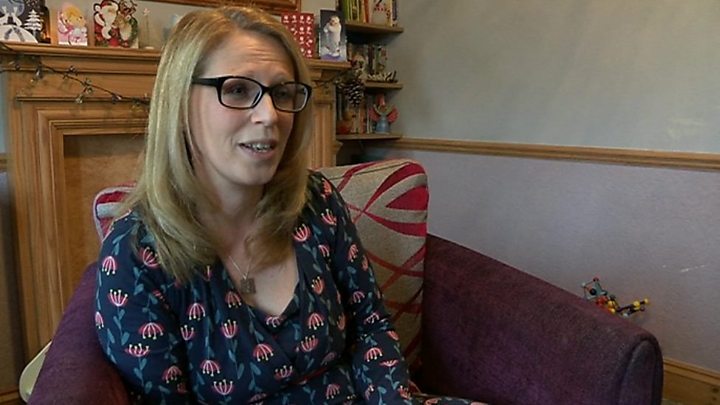 Rachel Warden, 31, from Caerphilly, signed up to donate breast milk there when her 10-month-old daughter, Beatrix, was a few weeks old.
She became aware of milk donation after reading a blog on the subject when she was pregnant.
"I thought it was an exciting story about a blood bike coming to pick up her milk to take it somewhere in England," she said.
"Our daughter was a little bit poorly and spent a week in the neonatal unit and there I saw so many little, tiny babies who were sick. I wanted to do something small to help them."
She signed up to be a donor on the bank's website which was followed up with a phone call from the milk bank, blood tests at her GP surgery and a box full of bottles to store her breast milk arrived in the post.
She then began expressing her milk using a breast pump each morning while her youngest slept and her eldest ate breakfast.
She has donated just over 10 litres.
"I feel privileged that I've been able to help. It wasn't a huge thing to do. I feel it was the same as when you donate blood. It's just nice to feel that you've helped someone," she said.
A Welsh Government spokesman said: "We are actively looking at how breast milk banks could help increase breastfeeding rates in Wales."
It has also set up a group to try to increase breastfeeding rates in Wales with recommendations due to be discussed in the new year.