Rugby alcohol violence: 'No rise' in stadium ejections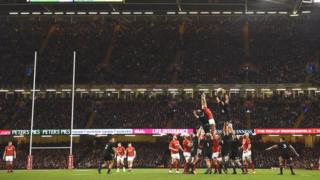 The number of people ejected from the Principality Stadium did not rise during autumn internationals despite publicised incidents of bad behaviour, the Welsh Rugby Union has said.
Fans, police, and crime commissioner Alun Michael spoke out following the Wales-New Zealand match.
An investigation was also launched after a disabled man was abused and subjected to "a tirade of foul language" at the same game.
The WRU urged fans to report incidents.
Its review of the autumn series included looking at games against Australia, Georgia, New Zealand and South Africa, on consecutive Saturdays.
A WRU spokeswoman said it was conscious of the different challenges presented by later kick-off times in comparison to earlier games.
"Despite this, we do not tolerate bad behaviour at the stadium at any time and we will take action against transgressors," she added.
"Overall, the number of ejections and warnings over the course of the autumn series was similar to other years."
The spokeswoman urged fans at future games to report "incidents of loutish behaviour" to stewards as soon as possible so they can take "quick and appropriate action".
She said: "Some of the incidents that have come to light in the days and weeks following the recent games were not reported to our stewards at the time."
Fans have described drunkenness, bad language, a brawl and verbal abuse during the series of games.
Scenes for the New Zealand match were "reminiscent of the bad old days of football", according to Mark Bryan from Penarth, Vale of Glamorgan.
He attended with his partner Louise McShane and described a brawl unfolding after a group of "boisterous" 20-something New Zealanders were spoken to over their choice of language.
"They took their telling off in good spirits and stopped using the offensive word, however as (winger) Waisake Naholo scored his second try we saw a Welsh supporter run down 20 rows of seats and start punching the lads in the face," he said.
Mr Bryan described the fighting men "collapsing on top of us" before other fans separated them.
He added: "The Kiwis had a number of injuries, black eye on the way, swelling on cheek and a loss of their beers, which they were now wearing.
"I would like to say this was a one off, but we have witnessed similar scenes at Six Nations matches, especially the last home Scotland game."
Rhys Rogers described a "constant tirade" of "the worst foul language by two girls in their early twenties" while at the Australia game with his family.
"They had a limited understanding of rugby but were strongly swearing at the referee after practically every infringement," he said.
"I don't think alcohol alone could be blamed for their behaviour - their speech was quite coherent and it seemed perfectly acceptable to them to inflict this on those sitting around them.
"I have been attending rugby matches for over 40 years but recently there has been a steady decline in the standard of behaviour and atmosphere in the Principality Stadium."
Sandie Hardwick - at the same game with her husband, his cousin and wife - was "showered with beer".
She said she was sat in front of a group of five men who "seemed to think that unless they were drunk they might as well not bother attending the game".
"Throughout the game their language was appalling," she said.
"When they sat down they had carriers with four beers each and regularly went out during the match, each time returning with more carriers full.
"During the second half I had to get up and wipe my seat as it was filling with their spilt beer. When Wales scored they leapt up and I was showered."
When she asked them to stop throwing beer, Mrs Hardwick said they became aggressive, saying they were just celebrating.
John Savery had been attending games since the 1970s but said he had decided to stop after noticing a shift in the atmosphere.
"I'm not surprised by this at all and it is very saddening," he said.
"Some people ended up in such a condition that they couldn't find their seats upon their return and then standing in the aisles using their phones and obstructing the view."
Andrew Davies paid £95 for his seat for the New Zealand match and thinks bars inside the stadium should be closed during the game.
"It's turning into a big problem. People are drinking all game and I would really like to see bars closed during the game. It's only 80 minutes without drinking."
The WRU spokeswoman said it was constantly reviewing procedures relating to the sale of alcohol and worked closely with South Wales Police to "influence and improve" fan behaviour.