Exam incidents rise reported to Qualifications Wales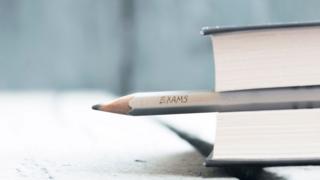 Four cases of exam malpractice and almost 100 security breaches were reported to the Welsh qualifications watchdog, its annual report says.
There were 196 incidents reported to Qualifications Wales between September 2016 and August 2017.
These were "likely to lead to an adverse effect on students".
But the regulator said the majority of incident reports related either to "very minor issues", or led to no significant impact on students.
An increase in the number of incidents reported in the summer 2017 exam period compared to the previous year was partly due to new reporting guidelines and more exams, it said.
Many of the incidents originated outside Wales but could have had an impact on Welsh students.
Out of 94 security breaches, four originated from centres in Wales
There were 56 question paper errors reported
"In a very few cases" there were some errors that resulted in students being unable to answer a question as anticipated
Read more: The 2016/17 annual report in full
Qualifications Wales says it monitored the actions taken by awarding bodies who reported the four alleged cases of malpractice and it said that it was "content that students in Wales were neither advantaged nor disadvantaged".