Meic Povey: Actor and playwright from Nant Gwynant dies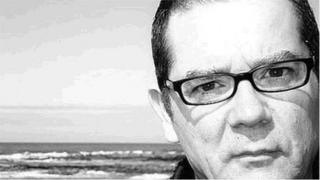 Tributes have been paid to playwright, actor and director Meic Povey, who has died at the age of 67.
Povey, from Nant Gwynant, Gwynedd, had been fighting a long battle with cancer.
He was well known for co-creating the soap opera Pobol Y Cwm and he played DC Taff Jones in 1980s television series Minder.
S4C creative content director Amanda Rees described him as a "rare talent".
She said: "There is no doubt that he was among the great Welsh playwrights of the past decades, with the ability to write popular entertaining drama as well as challenging material, dealing with issues relevant to the people of Wales today and universal themes about the human condition.
"His television output, from the early days of Pobol y Cwm, up to his most recent drama series, Byw Celwydd, show how much of a loss he will be - he had so much more to offer."
Sian Gwynedd, head of content production at BBC Wales, said: "Without doubt, Meic Povey was one of our most talented and influential authors and dramatists. He played a pivotal role in ensuring Pobol y Cwm's early success and penned popular series' such as Talcen Caled and Teulu.
"He was prolific in English too and his gripping plays were often heard on BBC Radio 4; his drama series "Curious Under the Stars" one of the recent highlights.
"Our deepest condolences go to his family and friends."
Among his TV acting credits, Povey appeared in Doctor Who and A Mind to Kill.