GCSEs: Monmouthshire and Blaenau Gwent top and bottom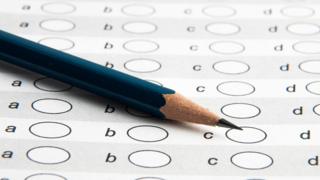 The performance gap between the best performing and worst performing areas of Wales for GCSE results is the widest it has been for five years.
Monmouthshire (67%) had the highest percentage of pupils getting five A*to C grades including English or Welsh and maths,
Blaenau Gwent had the lowest (41.1%) hitting this threshold.
But statisticians and the education secretary are urging caution comparing results with last year's figures.
Because of recent changes in exams, it will take until 2021 before results can be compared over time properly.
The chart above shows how different counties compare for 2016/17 with the Wales average for the threshold of 54.6%.
Blaenau Gwent has been the lowest among 22 council area since these set of figures were first collated in 2007/08 - the lowest being 31.2% in that year.
Other headlines in the final report of exam results, include:
Only the new English language, maths and maths numeracy exams have been counted in the latest indicators.
The GCSE A* to C pass rate in Wales fell to its lowest level since 2006 this summer after some of the biggest changes in decades to the exams system.
Education Secretary Kirsty Williams said: "It is our national mission that every child, no matter their background, has the opportunity to succeed.
"Our pupil development grant, which provides extra support for children from disadvantaged backgrounds, is a vital part of our plans and we're already seeing the benefits."
Ms Williams said it was making a difference in "breaking the link between poverty and attainment that has dogged our education system".
She added that comparisons between this year and last year's GCSE results were not appropriate or accurate.
"It's important to have data which you can compare like-for-like, year-on-year, to see where performance issues need to be addressed.
"But today's final exam results do not yet provide us with that kind of comparison."