Call to speed up endometriosis diagnosis in Wales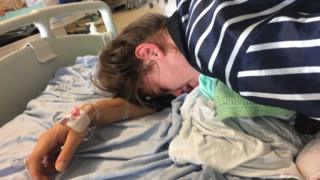 Calls have been made to cut delays in diagnosing a condition which leaves women in chronic pain.
Patients say it can take years for them to be diagnosed with endometriosis in Wales.
Earlier this year, the National Institute of Health and Care Excellence (NICE) updated its guidelines to speed up diagnosis in England.
The Welsh Government said it is developing recommendations on how those guidelines will be implemented here.
Jaimee Rae McCormack from Cardiff waited 13 years for a diagnosis after spending years in and out of hospital.
The 27-year-old said the condition, which causes painful periods, fatigue and bowel and bladder problems has had a huge impact on her life.
"It's as if hot knives are going through you, twisting, and cramps to the point where physically you can't even stand up," she said.
"You stay in your home an awful lot because you are nervous to go out, nervous to make plans because more often than not you have to cancel and then you let people down."
---
Endometriosis facts
A condition where cells - like those in the lining of the womb - are found elsewhere in the body
When these cells break down, they bleed and form a cyst
They cause painful and heavy periods and may lead to infertility, fatigue and bowel and bladder problems
It affects 1 in 10 women of reproductive age (1.5 million in the UK)
It takes an average of seven and a half years to get a diagnosis
Source: Endometriosis UK
---
Campaign group Fair Treatment for the Women of Wales has petitioned the Welsh Government for better endometriosis care.
A spokeswoman for the group said: "Not only is the (health) system really difficult to navigate when you are within it, you're expected as a patient to know everything and navigate your own way around the system and facilitate your own care at the same time as being really, really unwell."
"We'd like to demythologise endometriosis and raise awareness both amongst the general population and amongst the medical profession, so the 1 in 10 girls and women who are suffering with this can be helped in a much more timely manner," she added.
In September this year, NICE, the body which issues advice to NHS England, published guidelines to help doctors diagnose endometriosis earlier.
Caroline Overton, of the Royal Society of Obstetricians and Gynaecologists, helped to write them. She said the symptoms often overlap with other conditions, making it more difficult to spot.
"The aim was to highlight endometriosis. Currently women are waiting seven and a half years before getting a confirmed diagnosis and some argue leading to a condition that is more difficult to treat," she said.
"It would be fantastic to see these first class guidelines adopted both in England and Wales."
The Welsh Government said the Endometriosis Task and Finish Group is developing recommendations on how the NICE guidance will be implemented here.