Archbishop of Wales calls to revive 'disheartening' school assemblies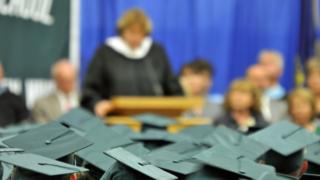 The new Archbishop of Wales wants the church to help revive school assemblies because he thinks they can be "wearying" and "disheartening".
The Most Rev John Davies, recently enthroned as the 13th leader of the Church in Wales, said addressing whole schools at once was a "huge challenge".
The traditional morning assembly often includes common song or prayer and school announcements
Mr Davies has also said he wants to "refresh" the church in Wales.
Mr Davies, the Bishop of Swansea and Brecon since 2008, has called for the Church in Wales to "pause and draw breath" after his appointment.
Now the father-of-two wants to help revive the school assembly.
"One of the things I found quite wearying when I was in school was assembly" he told BBC Radio Wales' Sunday Supplement programme.
"I've never really seen the benefit of dragooning hundreds of children into a hall simply to go through a ritual that means something to some but not necessarily to others.
"One of the disheartening things I've experienced in schools is you can get through an assembly and maybe get a message through and have a period of stillness and silence at the end of it all, but within an instant and you're into the school announcements and any sense of spirituality vanishes."
Mr Davies has called for schools to consider smaller gatherings as that is his "preferred way of operating".
"Trying to address an entire school with an age range of 11-18 is a huge challenge," he said.
"But I think spirituality addressed properly, trying to speak to a soul of an individual rather than a mass of people is still very important."