Cwm Taf buys no donor breast milk for babies for five years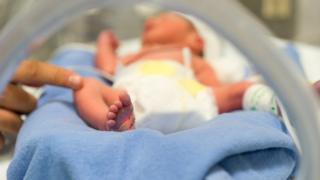 A health board in Wales has bought no donor breast milk for premature babies for five years, despite a guideline urging its use when mothers' milk is unavailable.
All health boards with neonatal units bought milk from a bank - except Cwm Taf.
A breastfeeding charity said it was "shocking" but one neonatal professor said it was "perfectly reasonable".
Cwm Taf said it followed the All Wales Enteral Feeding Guideline.
The health board said it "tended to use the mother's expressed breast milk" but when babies were transferred to its neonatal unit from tertiary intensive care outside its area, it then transferred donor milk with them.
But midwife and lactation consultant Carol Walton said sometimes mothers were unwilling or unable to express their own milk and in that instance donor milk should be used.
Ms Walton, who works for Aneurin Bevan University Health Board and was made an MBE for services to midwifery and breastfeeding mothers in 2013, said: "All the evidence shows babies who receive breast milk do better in every way."
She said they were "20 times less likely" to develop necrotising enterocolitis - a serious illness affecting tissues in the gut.
The World Health Organisation (WHO) and the UK Association for Milk Banking (UKAMB) say premature babies who receive only breast milk have a significantly lower risk of developing the sometimes fatal condition.
Over a four-year period - 2013 to the end of 2016 - about £71,000 was spent on donor breast milk in Wales. In that period, 9,713 babies were born at or before 36 weeks' gestation.
All purchased donor milk came from milk banks in Chester and Birmingham, a freedom of information (FOI) request revealed.
There was a disparity between health board spending on donor milk, with Aneurin Bevan spending £32,088 in that time and Cardiff and Vale spending £500.
And Cwm Taf did not buy any.
Emma Pickett, chairwoman of the Association of Breastfeeding Mothers, which provides support and information for breastfeeding women, said: "This is shocking and an example of a postcode lottery of the worst kind - one that is literally risking the lives of vulnerable newborns and premature babies."
"I can only imagine Cwm Taf misguidedly feel this is the area in which to save a few pennies and ignore scientific research," she added.
Children's charity Unicef, which runs The Baby Friendly Initiative accreditation for hospital professionals, said there was a "strong body of evidence that breast milk is optimum for the health of preterm and sick babies".
But Neena Modi, professor of neonatal medicine at Imperial College London, said the benefits of donor milk were unproven.
"It is perfectly reasonable not to use donor breast milk," she added. "Current clinical trial evidence does not support the use of human donor milk over formula to make up any shortfall in maternal milk in respect of any clinical outcome including necrotising enterocolitis.
"This is not to say there is evidence not to use it, but that there is uncertainty either way."
A Cwm Taf health board spokesman said mother's expressed breast milk is used, meaning it has not needed to actively purchase donor milk directly from banks in the last five years.
But he added that it had "facilitated feeding" of babies born outside the health board's area which are then transferred back into its care by transferring donor milk from outside the area.
The Welsh Government said it recognised "the importance of breastfeeding to promote wellbeing for both mother and baby" and was committed to increasing breastfeeding rates.
It added a breastfeeding task and finish group was reviewing donor breast milk availability.
Public Health Wales said breastfeeding made a "big difference" to a baby's and mother's health and it was working with the Welsh Government to increase the number of breast fed babies.