Calls for overhaul of sex education in Wales' schools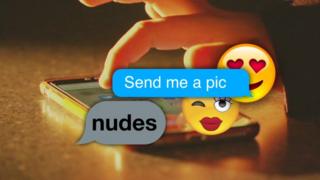 Calls have been made for a major overhaul of sex and relationships education in Wales.
The Sex and Relationships Education Expert Panel found "significant gaps" between young people's experiences and what they are taught in school.
It has prompted campaigners to call for a greater focus on rights, relationships and emotions.
Education Secretary Kirsty Williams said she would consider the report and publish her response in early 2018.
The panel was set up by Ms Williams in May to help look at how the curriculum could be developed.
It found that sex and relationships education (SRE) was "often too biological, too negative" and said not enough focus was placed on rights, gender equity, emotions and relationships.
The report also highlighted that little attention was given to minority gender and sexual identities, as well as violence against women, domestic abuse and sexual violence.
Chaired by Prof Emma Renold from Cardiff University, the panel's recommendations included:
Making SRE statutory in the new curriculum, due to be finalised in 2020
Changing the name of SRE to sexuality and relationships education, to help focus on rights, health and equality
Providing training and support for teachers and others involved in SRE
Panel member and NUS Wales president Ellen Jones said it presented a "golden opportunity to make our education system an inclusive one".
Sally Holland, Children's Commissioner for Wales, said children and young people needed to learn how to build "healthy and safe" relationships.
She stressed that SRE must not be "one-off and sometimes under-valued lessons about the biology of sex and the prevention of STDs and pregnancy" but a "broad and inclusive way of learning about and experiencing respect, rights and relationships".
Welsh Women's Aid chief executive Eleri Butler called the "variation in the quantity and quality of SRE" as "deeply worrying" and welcomed the report's findings.
In September, Ms Williams announced the new national curriculum in Wales would be delayed by a year.
Responding to the SRE report, Ms Williams said: "Creating an education system which helps all our young people become adults who are healthy, confident individuals is a key part of our national mission.
"We can only do this by assisting teachers to gain the knowledge, confidence and skills they need to develop the physical, emotional and mental health of their pupils."
The recommendations would help "pioneer schools" in exploring curriculum structures and approaches around SRE, she added.
Earlier this year, Barnardo's Cymru called for the Welsh government to introduce compulsory sex and relationship lessons for all school children.