Wales' sheep numbers rise above the 10 million mark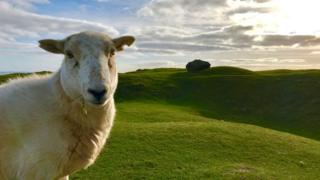 There are more than 10 million sheep in Wales for the first time since 2002.
Numbers had dropped since headage payments - given for each animal - stopped, but they have risen again as a weak pound has increased exports.
An annual agricultural survey has been carried out since 1867, with the Welsh government publishing the latest results.
Wales' sheep flock makes up nearly 33% of the British total, while its 3.1m people is 4.7% of the UK's population.
Numbers of beef cows that calved fell marginally, while there were significantly higher numbers of young female beef cattle, the survey also found.
Industry body Meat Promotion Wales's John Richards said there was a significant rise in Welsh lamb exports, in part down to the fall in the value of the pound.
However, he said the sheep sector - which sells a third of its lamb to the EU - is particularly vulnerable to any arrangement that could see tariffs imposed on exports after Brexit.
"It seems that some farmers are now looking at their own businesses to see if they can spread risk through either the beef herd or new ventures," he said.
"An example of this may be that the number of fattening pigs on Welsh farms increased by 8%."