'I cried with relief': Fleeing violence and finding refuge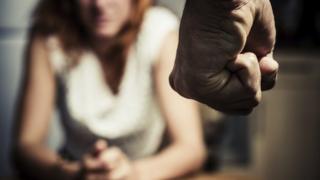 When Sian walked through the door of the refuge with her young son after more than a decade of violent abuse, she wept with relief.
"I couldn't breathe properly, because the fear was starting to go... I had feared for my life and my son's wellbeing. I just couldn't take it anymore, I had to leave," she said.
Sian, not her real name, is one of thousands of women who arrive at the sanctuaries across Wales every year.
Some have just the clothes on their back and children in tow.
The refuges are safe places, the location of which is only known by police, staff and the women, men and children who live in them.
This is because the residents are considered at risk of being seriously hurt or killed.
But with hundreds already being turned away due to a lack of beds and specialist staff, Sian and others fear what the future holds for those fleeing abuse if funding for these safe havens is lost.
"For me they are lifesavers, I needed to escape that situation," she said.
"I would have been on the streets, I dread to think what would have happened."
When Sian first met her partner everything was great but over the next 10 years he became aggressive, violent and manipulative, making her feel like her life and her son's was in danger.
There were violent arguments in front of her son, he controlled her daily activities, and when she tried to leave he stalked her, hacked her phone and even forced her car off the road.
"I lived in constant fear that something terrible was going to happen," she said.
"It got to the point where I would have happily turned up at a local council somewhere in the country with a suitcase and my son.
"I loved the house I lived in, the neighbours were great, I had friends, a job but I couldn't stay. If I wouldn't have got here, I really don't know what I would have done."
In the end Sian rang Women's Aid - who run a hotline for domestic abuse victims - and was directed to a refuge in Wales.
She hired a van, put her stuff in storage and fled with her son.
"I cried with relief and the tenseness that I'd had in my body, my shoulders, for two years just sort of disappeared and I couldn't sort of breathe properly, because the fear was starting to go.
"We felt sort of cocooned and wrapped up in cotton wool and were taken care of.
"There was just me and my son to focus on, no strange things happening and it was safe... it's just meant so much."
Sian now faces a wait for a social house but she said she does not care where she lives as she now feels like her life is getting on track, adding she looks and feels like a new woman.
"I feel so safe... but I could live in a tent, I wouldn't care as long as I have my son."
For Jayne, also not her real name, this will be her first Christmas alone. She feels nothing less than relief to finally be safe.
Jayne, who is in her 60s, arrived at the refuge in the back of a police car only a few days ago and the bruises still show on her face weeks after being attacked by her husband in their home.
"I'm surprised I survived it," she said. "I gathered up what I could fit into the car and off we came."
Despite the abuse and fleeing to refuges, she still loves her husband. He had a mental breakdown a few years ago, leaving the man she married more than 10 years ago almost unrecognisable to her.
"It's like somebody else takes over his personality, he's not there anymore, and that's when he gets violent," she said, adding that when he physically hurt her and she cried out he was always sorry.
"It seemed to go on forever, because it took him a couple of years to admit he was ill and get his family to listen to me - they all assumed it was my fault."
She has left her husband a few times but always hopes he has got better and will return home. This time though, she said she has had enough.
"I'm done, that's it, it hurt too much," she said.
"I hope he can get some help, I am going to give it up now and move on, no more wasted years there, you can't help someone who doesn't want to be helped."
Without the refuge, Jayne thinks she would have ended up sleeping rough on the streets or staying in the house and trying to survive the abuse.
"I had thoughts of, 'I need to buy a tent' and things like that, but luckily they were here for me," she said.
Even with the bruises still on her face Jayne feels optimistic for the new year. She wants to leave the refuge just being able to pay her own bills again and live independently.
Basically she just wants to live - "live without worry that I am going to say something or do something and be hurt" - which after all, does not seem like a lot to ask.