Superfast Cymru broadband project nears end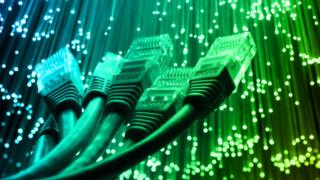 Over 700,000 properties have been connected to superfast broadband since a Welsh government project was set up in 2013, according to Openreach.
But one AM has criticised the scheme, saying some people had been "given promises that have been dashed".
The firm said it has had some issues causing installation delays for some.
It was set a target of connecting 690,000 premises before the project ends this month. Official figures in September showed 661,000 connections.
Adam Price, Plaid AM for Carmarthen East and Dinefwr, has claimed that many of his constituents have been "misled" which the company, a division of BT, has denied.
He has also said it was a "mistake to allow a private company to decide who should receive this service and who should not".
Case study: 'Left further behind'
John Burton, who lives in the Cothi Valley, told BBC Wales that he "felt like a third world citizen" after missing out on the Superfast Cymru scheme.
He said that he felt there was "no accountability".
"We suffer from poor broadband connections where we live anyway, and our phone lines are poor... and we're left further and further behind," he said..
"It seems ridiculous that they're talking about super, superfast speeds of 330Mb in Cardiff when we can't get 1Mb."
Openreach project director Ynyr Roberts rejected claims that any community had been misled, but he did admit that plans had to change in some areas which meant timescales had slipped.
"Where we've reached areas with unforeseen build difficulties, we've had to make some tough decisions," he said.
At least 95,000 homes and businesses are not part of the current rollout, and will have to wait and see whether they will be connected under the multimillion pound Next Generation Access Scheme.
A report by Ofcom, the UK communications regulator, suggested around 66% of premises in rural areas can receive a superfast broadband connection in Wales compared with 96% of premises in urban areas.
Julie James, the Deputy Minister for Skills and Technology, accepted that, for some, the lack of a superfast broadband connection was a "real problem".
She said that "the Welsh government would be working hard to connect them".
Openreach has been paid about £180m, so far, but it could receive up to £224m if it meets its targets.
Superfast Cymru, which pooled Welsh and UK government money and EU funds, was set up because the commercial roll-out of superfast broadband only achieved 49% coverage.