Plan for extra 600 Welsh-medium teachers by 2021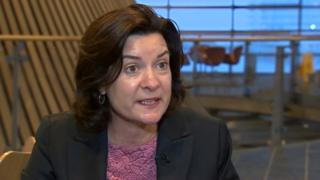 Plans on how to achieve one million Welsh speakers by 2050 have been unveiled.
The Welsh Government has set out its timetable for expanding Welsh-medium education in schools.
It aims to have an extra 200 Welsh-medium primary teachers and 400 secondary teachers by 2021.
But the plans were met with caution by a Cardiff head teacher and denounced by Welsh language campaigners as "unambitious".
The targets, which would double the current number of Welsh speakers, were announced by Eluned Morgan, Minister for Welsh Language and Lifelong Learning during a visit to her former school, Ysgol Gyfun Gymraeg Glantaf in Cardiff.
'Embrace the language'
Making the announcement, the minister said: "I was one of a handful of children from my estate in Cardiff who had my education through the medium of Welsh and distinctly remember having stones thrown at our bus full of primary school children as they objected to having a Welsh language school in their neighbourhood.
"I am delighted that the attitude towards the language has changed fundamentally from when I was a child and that we now have the opportunity to build on this goodwill.
"Reaching a million Welsh speakers by 2050 is a significant challenge. Inspiring the next generation, particularly those from non-Welsh speaking families, to embrace the language and to use it in all contexts is vitally important in achieving this target."
But Iwan Pritchard, head teacher at Welsh-medium school Ysgol Gyfun Gymraeg Bro Edern in Cardiff, said: "We have found it increasingly difficult to recruit members of staff.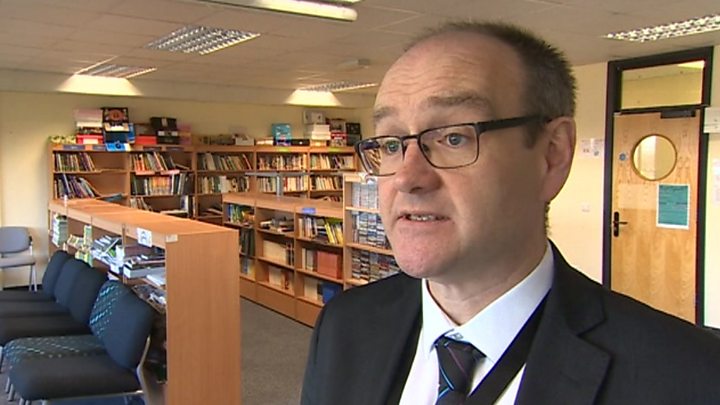 "We have managed so far... but all the stakeholders need to work together to ensure that we get the correct amount of teachers of a high enough quality."
Welsh language campaigners went further, saying the plans lacked ambition.
Toni Schiavone, who chairs the Cymdeithas yr Iaith Gymraeg (The Welsh Language Society) education group, said: "The government needs to transform the education system if it wants to ensure all pupils leave school fluent in Welsh.
"The fundamental problem with the plan is that the steps to normalise and expand Welsh medium education are unambitious and too slow by far.
"And although we welcome the commitment to create one continuum of Welsh learning, the plan avoids committing firmly to ensuring there will be one Welsh language qualification which all pupils take."