Councils consider covert tactics to cut litter and dog mess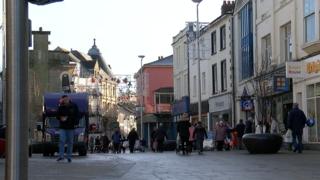 Five Welsh councils have said they would consider using covert tactics in the fight against littering and dog fouling.
Torfaen council said it had now paused the use of private contractors working in plain clothes to issue £100 fines, but may use the tactic again in future.
Blaenau Gwent uses the same company, Kingdom, to enforce fines.
Gwynedd, Monmouthshire and Pembrokeshire said they would consider covert action in future.
Bridgend said it had no plans to use plain-clothed officers to catch offenders.
Ceredigion, Flintshire, Neath Port Talbot, Swansea, Vale of Glamorgan and Wrexham councils did not respond to BBC Wales' request for information.
Most councils use litter enforcement officers - either employed directly by the authority or through a private contractor.
The officers usually wear a clearly marked uniform and wear body cameras to capture evidence.
What appears to have concerned some people in Torfaen is the recent use of plain-clothed officers as well as those in traffic warden-style outfits.
The authority said cameras worn by any plain-clothed officers should only be turned on once the officer has informed an alleged offender of their identity and that they are working on behalf of the council.
One business owner in Pontypool said a "negative atmosphere" was created in the town recently, when a plain-clothed officer followed people into shops to issue fines.
Allun Davies, who runs vintage shop Roofrack Ragamuffins, said people were initially unaware if the officer was genuine because of a lack of uniform or visible ID.
"I think re-education and a visual presence is going to deter people more than somebody working covertly following people, waiting for them to drop litter and almost pouncing on them," he said.
"It creates a huge negativity in town... in the same way that PCSO's (Police Community Support Officers) in uniform in town creates a tremendous deterrent - put plain-clothes police officers in town and no-one knows who they are and there's no deterrent.
"We're really pleased they've taken our comments on board... they've re-evaluated the situation and adjusting the policy and I think it's for the better."
The council said feedback had been given to the company working on its behalf so officers did not follow people into shops, but it did not rule out using the covert tactic again if it was necessary.
Councillor Fiona Cross, executive member for the environment, said: "We have had enforcement officers operating in Torfaen since May, targeting dog fouling and litter hotspots in response to calls from our residents to do more to tackle these issues.
"During this time we have seen a noticeable drop in the reports of dog fouling of around 32%.
"The decision to deploy plain-clothes enforcement officers in Pontypool was taken in response to information received from the public about specific individuals allowing their dogs to foul almost daily in the town centre.
"We felt that using plain-clothes officers gave us a better chance to observe these individuals and take the appropriate action.
"This is a legitimate tactic in the battle against littering and dog fouling in public areas, however, following concerns raised by some of the traders in the town we have agreed that going forward officers operating in Torfaen will be in uniform at all times."