Christmas trees: Vandalised, criticised and uniting communities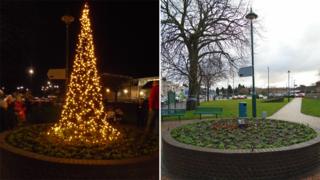 What could be more innocuous than the Christmas trees that adorn Wales' city, town and village squares?
But some have divided public opinion on social media, while others have been targeted by vandals.
With council budgets squeezed, many town councillors, businesses and community groups have taken over responsibility for the trees.
Here, we take a look at the public trees that got people talking in 2017.
Connah's Quay Town Council bought a £300 wigwam-style Christmas tree for the town but within days it was destroyed by vandals.
Town clerk Steven Goodrum said: "It wasn't to everyone's taste. People took a dislike to it and ruined it.
"I felt bewilderment - why would people want to do it?
"It generated a lot of local anger as well."
A new tree was donated by a garden centre but two weeks later someone attempted to rip the lights off. It has since been repaired.
North Wales Police said it was aware of the incidents and asked anyone with information to get in touch.
But Connah's Quay's tree is not the only one to have been targeted.
Last week the village of Murton in Swansea had the lights on its Christmas tree cut.
It was the first year the community had its own tree after councillor Lyndon Jones purchased the 19ft (6m) tree with £200 from his councillor's community budget.
He said: "It's very disappointing. There was a real community spirit at the event where the lights were put on - people really loved the tree.
"A local shop handed out mince pies and chocolate. It was switched on by a local eight-year-old who won a drawing competition."
He said the person who cut lights had "put themselves in danger by doing it and cutting through a live wire".
The lights have now been replaced.
Ian Jones, clerk for Bangor City Council, said lights on one of the city's three trees were vandalised about two weeks ago.
He said: "People have no respect. It's for the enjoyment of the whole community and a few people destroy the enjoyment of many."
Barry town centre is on its second tree this Christmas after the quality of the first one was called into question on social media.
Vale of Glamorgan council acknowledged it was "clearly not of the high standard set by the town centre's other festive decorations".
A spokesman added: "It was taken down the same day and its replacement was in place less than 48 hours later and ahead of the Christmas lights switch on celebrations."
Caerphilly's tree cost £600 and was purchased from a sustainable forest but it did not go down well with some residents at first.
Councillor Colin Elsbury said: "Originally there was a furore about it because it was photographed before it was decorated.
"Some people think they know better but when it was decorated and the lights were on, it looked great."
There was no doubt Cardiff council was keen to avoid criticism after it had to apologise last year when its £30,000 tree outside the city's castle fell short of expectations.
It had ordered a pre-decorated 40m (131ft) tree from China but when it went up it was revealed to be just 12m (40ft).
Commenting on Facebook at the time, Doreen Richings said it looked like a "Ferrero Rocher tower", while Adele Morgan Parry said it was an "absolute monstrosity".
This year, the council responded with a real tree outside the castle.
It said its whole Christmas offering, which includes a Christmas market, Winter Wonderland, the tree, festive lights and decorations across the city centre, cost £8,000 due to increased revenue from the activity sites.
Neath Town Council also had something to prove after being criticised for its tree last year when people took to decorating it themselves.
Town clerk Kathryn Charles said: "It was difficult. The councillors really wanted to take on board what had been said.
"We created a community group and worked with the community and traders to get public engagement and it's really worked.
"About 3,000 people turned up at switch-on which was great - and we've had such compliments this year.
"We've lowered the voltage of the lights which means that we can lower the fence surrounding it. It's been decorated with bows and large baubles."
But despite some upset and acts of vandalism, clerk for Bangor City Council Ian Jones believes the trees have a positive impact on communities.
"It's all about the ambience and mood and gets children excited for the big day," he said.
Porthmadog councillor Selwyn Griffiths agreed.
His town in Gwynedd has two large Christmas trees and three smaller ones in the villages of Tremadog, Borth y Gest and Morfa Bychan.
The town council spends £1,000 on them and volunteer group, Caru Port, buys the street lights and runs festive competitions for schools and businesses.
Mr Griffiths, who is a member of the community group, said: "There's only about eight of us and we're very dedicated to the town.
"We've got a very friendly community and there's a very good community spirit here.
"The trees attract people - it encourages people to join in."