£3.5m police car repair bill for officers' driving mishaps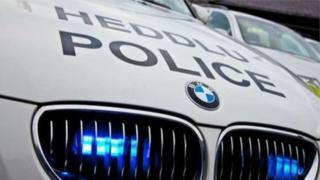 Repairing police cars damaged by crashes and driving mishaps has cost three Welsh police forces more than £3.5m in four years.
From April 2013-2017, 4,214 incidents saw vehicles damaged by officers, animals and criminals, according to Freedom of Information request responses.
Almost 500 cars were damaged by reversing, 108 by animals, while 29 needed repairs after problems caused by "weather".
Police said damage was "inevitable".
Some of the costs caused by third party or criminal damage have been, or are in the process of being recovered by the forces.
South Wales Police had the most amount of damage, with more than £2.6m of repairs and 27 vehicles written off.
The lowest bill, at £442,776.64, was recorded by North Wales Police after 1,339 incidents saw vehicles damaged.
Of these, 63 were caused by "animals on the road" and three by "speeding".
The force was criticised in April 2016 when officers used a police car to deliberately run over and kill a dog which was loose on the A55 in Conwy.
In Dyfed-Powys 45 cars were damaged after officers hit animals or birds, 60 by colliding with a bollard or a post and 91 with a "third party".
Of the vehicles damaged by South Wales Police, the largest number were general police cars, while 34 protected personnel carriers, 19 armed response vehicles, 26 police dog vehicles, 29 CCTV vans, and 15 driving school vehicles also needed repair work.
Blue lights were knocked off, windscreens cracked, cell doors broken, and headlights smashed by offenders and vandals in south Wales during the period.
One car had an 18-inch scratch following an incident in 2015.
James Price, campaign manager at the TaxPayers' Alliance, said the police should have a "long hard look at the way they treat their cars".
"The police are constantly asking for more money, but clearly they have been wasting our cash by driving recklessly and not respecting the equipment that taxpayers have funded," he said.
'Hostile and fast-paced'
Assistant Chief Constable of South Wales Police Jeremy Vaughan said it was inevitable cars would be damaged as the force responded to more than a million calls a year and travelled about 12 million miles doing so.
"Our drivers are highly skilled and every care is taken with the force's vehicles, however, it is inevitable that some will be damaged in the course of duty," he said.
"While regrettable, when responding to emergency calls or situations which can often be hostile and fast-paced, our priority must be to resolve those situations as swiftly as possible in order to ensure the safety of all involved as well as the wider public. Where collisions or other damage occurs, we fully and thoroughly investigate.
"Deliberate criminal damage to our vehicles is totally unacceptable and we will seek to prosecute those who target our fleet in such a way.
"The safety - and in some cases the lives - of members of the public depend upon the availability of these vehicles. When damaged they are out of service awaiting repair, reducing the numbers available to officers to help keep south Wales safe."
Huw Jones, from North Wales Police's fleet management, said about half of the vehicles involved in incidents with animals had no damage and had only needed safety checks.
He said: "Our vehicles work in a relatively high risk environment and cover over nine million miles each year responding to emergency calls in a fast paced, but controlled environment."
A Dyfed-Powys Police spokesman said the force's cars covered about seven million miles a year, adding: "Each incident is reviewed to identify if there are any lessons to be learned and where necessary proportionate action is taken in cases where an officer or police staff member has been responsible for causing the damage."