Wales tourism campaign 'working but more UK visitors needed'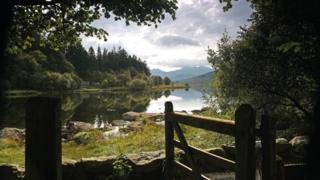 Themed annual campaigns to attract visitors to Wales are working but more people could be coming from around the UK, the new tourism minister has said.
Tourism is one of Wales' most important industries with visitors spending about £5bn a year.
Lord Elis-Thomas said themed years allows the Welsh Government to focus on the industry in Wales.
Year of Adventure was held in 2016, 2017 was the Year of Legends, and 2018 will be Year of the Sea.
"Discovery" has been earmarked for 2019.
Figures for 2016 show nearly 1.1 million overseas visitors came to Wales, with numbers rising steadily over the last five years, but the Great British Tourism Survey suggested UK visitors declined last year.
However, visits to some of Wales' most popular sites such as heritage body Cadw's main attractions, has seen visitor numbers increase every year since 2013-14 to more than 1.4 million.
"I wouldn't say that it's a coincidence that these campaigns have coincided with a rise or sustaining of the figures," Lord Elis-Thomas told the BBC's Welsh language news website Cymru Fyw.
"If we were to be going backwards we would certainly look to see whether we could be doing something differently, but I think the idea of thematic years is certainly one we will continue to use in the coming years.
"It gives us the opportunity to focus on the industry in Wales and within communities in Wales on the resources that we have.
"We must make the most of the marketing opportunities in order to ensure that the message reaches as many people as possible."
'Wider appeal'
Earlier this week, Lord Elis-Thomas said he would promote Wales as "a principality within the United Kingdom" despite it not being one since the 16th Century and the Welsh Government deeming it a country.
The Oxford English Dictionary describes a principality as "the territory held or governed by a prince".
But Lord Elis-Thomas accepted more needs to be done when it comes to attracting those from other parts of the UK.
"What we've tried to do over the years in terms of getting people to come to Wales on holiday, and getting people from Wales to enjoy what Wales has, is emphasise different features of the country," he added.
"It tells people living in Wales and the rest of the UK that places like this are available to them any day or any weekend.
"The message is therefore one that I think has a wider appeal."