'Christmas without estranged grandchildren is awful'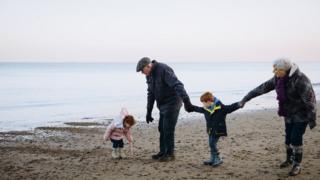 The festive period is typically a time when families get together. Yet, for those who have gone through separation or divorce and lost contact with children, the period can be incredibly hard. It is also not just parents who are affected. Here, one grandmother from Cardiff tells how, following her son's divorce, she lost all contact with her grandchildren and the heartbreak this has caused.
I have so many wonderful memories of my three grandchildren.
I was there when they were born, watched them take their first steps and helped teach them to ride their bikes.
We spent hours playing in parks and on the beach and they regularly stayed over in term-time and holidays.
Like most grandmothers, they were my pride and joy.
I loved and worshipped them, but they loved me too. I was their "nanny" and our relationship was absolutely lovely.
But in 2010, this all changed when their dad - my son - separated from their mum.
As often happens in these situations, he moved out the family home, and the children remained there with their mother.
My son had always had a wonderful relationship with his children and saw no reason for this to change.
But from the word go, despite having parental responsibility and paying towards them, he was denied access.
Seemingly, they no longer wished to see him or any of his family.
He went to the family court three times in order to gain the access needed to understand what was going on, but the children became increasingly distant.
The whole process took so long that, by the time the final court hearing came around, the eldest two children were old enough to put forward a "Wishes and Feelings" statement that was submitted to the court via CAFCASS, the body which represents children in family courts.
They had written they didn't want any contact with their dad ever again.
For us there was no rhyme or reason to this - he had gone from being their dad to just someone who contributed financially.
Through this terrible time, my contact too was cut.
I was told the children didn't want to see me anymore because 'I may talk about their dad'.
My husband and I knew the maternal grandparents well and begged them to help us.
We offered to pay for a mediator of the mum's choice, and help in any way we could, but they just said that they too were unable to persuade her to let us be involved.
I simply had no idea it was possible to lose contact with children so quickly. It took a matter of weeks to go from being a huge part of their lives to being excluded completely.
Now, seven years on, I have virtually no contact. We have occasionally exchanged text messages and made some progress, then there has been a setback and communication has stopped.
There is a term lawyers use called alienation - where one parent and their family loses contact with children post-divorce.
This is largely because the children are exposed to negative views about the non-resident parent, which can result in them developing disproportionately negative feelings about them - such as the parent never loved them, or that they've abandoned them.
This, I feel, is what has happened in our case and has been the driver for them cutting contact.
But for me, as a grandmother, the consequences have been awful.
Not only do I worry about my grandchildren missing out on a family who love them, I worry for my son who has effectively lost his children.
As for the festive period, I can only describe it as an emotional time.
This is the seventh Christmas without our grandchildren in our lives and it feels like a living bereavement.
I know how badly my grandchildren have been hurt yet I can't reach out and comfort them as I once did and neither can their dad.
I just hope people and the family courts begin to realise how real and cruel alienation is and that it affects, not just parents, but whole families.