Foster care Christmas allowance fairness call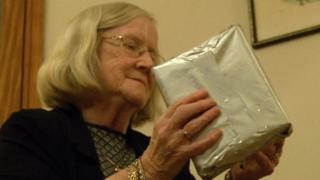 Calls have been made to ensure every foster carer receives the same amount of money to spend on children in their care over the festive period.
One council offers £215 extra to help at Christmas while others say money is included in a child's weekly allowance.
The Fostering Network wants all payments standardised and an end to what it calls a "postcode lottery".
The Welsh Local Government Association (WLGA) said all foster carers received weekly allowances to cover care costs.
There are more than 4,400 children in foster care across Wales.
Brenda Rees, from Barry, Vale of Glamorgan, retired from fostering last year after looking after about 200 children over 44 years.
With two children of her own, she said she often bore the cost of making sure no-one felt left out.
"There should be sufficient funds available for very child in Wales to be treated exactly the same," she said.
"Foster carers shouldn't have to dig into their own pockets.
"The local authorities are the corporate parents of these children, not us."
Counting the cost
Local authorities give foster carers a weekly allowance to cover the costs of expenses such as food, toiletries and pocket money.
How much varies depending on the age of the child and where they are fostered.
Caerphilly council pays £155 a week, including money for Christmas, for a five to 10-year-old.
Neighbouring Torfaen pays the same weekly basic allowance and an extra £155 at Christmas.
Neath Port Talbot gives less throughout the year - about £150 - but offers a higher Christmas payment of £215.
Fostering Network in Wales director Colin Turner said: "The reality is, it shouldn't be who you foster for… in an ideal world they'd receive the same fostering fees and allowances."
The WLGA said local authorities took their responsibilities for protecting looked-after children seriously.
It added: "All approved foster carers receive a weekly allowance to cover the costs of caring for a child and, while there is no legal requirement, most local authorities pay foster carers fees for their time and skills over and above the national minimum allowance."
The Welsh Government sets minimum standards for allowances but councils decide how much they pay, including Christmas allowances.
A spokesman said: "Plans are currently being drawn up to achieve greater harmonisation in future."