Caldey Island abuse: Drowned girl and sister were victims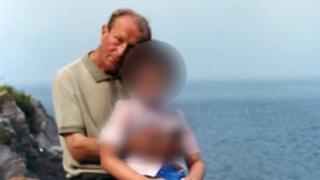 A woman whose sister drowned off Caldey Island as a child says they were both sexually abused by a monk there.
Father Thaddeus Kotik, who lived at Caldey Abbey for 45 years before his death in 1992, is accused of abusing several girls in the 1970s and 1980s.
Joanna Biggs is the first of Kotik's alleged victims to waive anonymity to speak out about her ordeal.
The abbot of the Pembrokeshire island abbey has apologised for any harm caused by a member of his community.
Six other women have been paid compensation by the abbey in an out-of-court settlement following the abuse claims. Other alleged victims have also come forward.
It has emerged that a number of other convicted sex offenders have stayed on the island.
Ms Biggs told BBC Wales that she recalled Kotik "seriously groping" her when she visited the island aged seven.
Kotik would befriend families who lived on the island or visited regularly, giving them chocolates or fresh produce, and inviting children into the dairy.
Ms Biggs said that although she was very young at the time, the memory of the abuse came back to her "in bits and pieces… around different senses."
"He had very big hands… rough, calloused hands… that's a very clear memory," she said.
"I remember feeling cold, in contrast with the hot, sunny day… there's a thrumming noise and a smell… of being in the dairy, very clean but sweet as well."
Now aged 48, she said she remembered how she and her sister Theresa "huddled together in a garden somewhere, having one of our secret talks where we used to agree things together".
"Theresa was saying, 'we're not going to go and see Father Thaddeus, even if he gives us sweets'," she said.
"I knew exactly what she was talking about… I didn't like what he did either and we had this agreement we were not going to see him."
Theresa, who was a year younger than her sister, drowned while swimming off the island's Sandtop beach in July 1977. Her family are now calling for a review into Theresa's inquest.
Ms Biggs said disclosing the abuse she had suffered to her parents last year for the first time had been "incredibly painful" for them, and also for her younger brothers and sisters, to hear about.
She said seeing the recent coverage about the allegations against Kotik - in particular, a photograph of the monk holding tightly onto a young child - had triggered a panic attack.
Speaking of the impact of the abuse, she said: "The trauma is something I'm used to coping with, living with.
"I can't predict what will trigger it… I have to calm myself down… it makes me very tired when it happens."
Ms Biggs says her parents are still regular visitors to Caldey Island, as that is where her sister and grandfather are both buried.
She described it as "like a punch in the face" seeing Kotik's grave in the island cemetery.
She has echoed other calls for Caldey Abbey to consider exhuming the monk's body.
"It's very hard to see them there, in the same graveyard. [The abbey] have to understand that by leaving the grave there, they're accepting him as a man of God, a holy man."
Kotik's victims have also backed calls from the Welsh Conservatives for an independent inquiry into the scandal.
However the Welsh Government has ruled out an inquiry while Dyfed-Powys Police are investigating the allegations.
The abbot of Caldey Abbey, Daniel van Santvoort, has said he would fully cooperate with any investigation.
Ms Biggs added: "There's a catalogue of really terrible human catastrophes that have happened there and it's not enough to say that he's dead now.
"[The abbey] need to acknowledge that these are not dead issues, they're live issues and they need to be brave, think really carefully about how they're going to tackle them.
"Now isn't the time for a vow of silence."