Archbishop of Cardiff urges public to help 'make peace'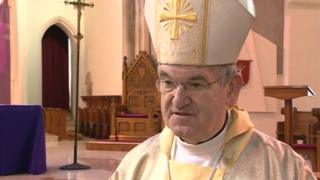 Everyone has a role to play in making peace on Earth, Archbishop of Cardiff, George Stack has said.
In his Christmas message, he referred to incidents this year including terrorist attacks in the UK which people will have their own memories of.
But he said the dividing line between good and evil "runs through the heart of every human being".
The archbishop said there were two levels which could help to achieve peace.
"Each one of us will have our own accumulated memories of the year that has passed, not least the horrors and atrocities of terrorist attacks in the streets of some of our cities," he said.
"The horrors of civil wars in the Middle East and the mass displacement of the Rohingya people from Burma to Bangladesh must cause the national and international community to search its heart."
He added: "Whilst we depend on our politicians to seek solutions to problems on the macro level, it is for each person on the micro level to make peace on Earth in the words and actions of our own lives.
"The efforts made by church congregations, as well as other communities, to... bind up hearts that are broken, in our own midst, is one of the most profound of all the messages we hear this Christmas."
His call follows on from the Archbishop of Wales who wants to see an end to injustice in the world.
Meanwhile, Dr Geraint Tudur, general secretary of the Union of Welsh Independent Churches, said Christmas was a time to overcome hatred and conflict.
He added: "We live in an era of great political bitterness, fuelled by inflammatory press headlines and hatred towards individuals on social media.
"Such personal abuse can be deeply hurtful and even make people fear for their own safety."
He also called on everyone to to into practise the words of Christmas carols about peace on earth and goodwill to all, adding: "Words which are read or sung with gusto, but too often forgotten in no time at all."