Boxing Day sales: Bargain hunters in early morning queues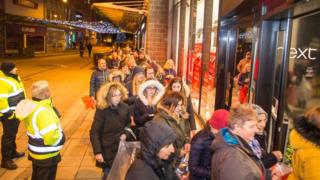 Tens of thousands of shoppers across Wales braved early morning queues and low temperatures for the Boxing Day sales.
Bargain hunters lined up from as early as 01:00 GMT, five hours before some stores were due to open.
Steven Madeley, manager of Cardiff's St David's centre, said he was expecting Tuesday to be busy with bargain hunters.
But he believes Wednesday and Thursday could be "even busier".
Factory worker Hayley Matthews was first outside the Next store at Eagles Meadow in Wrexham.
"I'm here just for clothes for my seven-year-old son," she said.
"I'll grab clothes of any sort and then decide what I want.
"I'll be able to kit my son out for the year and save a fortune that's why I'm prepared to come here in the middle of the night - it's worth the effort."