Cadw castle sites attract 900,000 visitors in 2017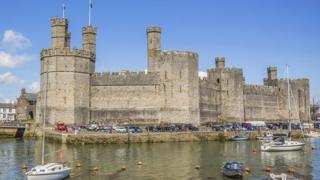 More than 907,000 visitors generated a record £4.4m at Cadw's sites in 2017, new figures show.
It represents a rise of almost 20% on how much was made in 2016.
Cadw - set up to protect historic buildings and structures in Wales - also now has more members than ever at 32,000.
In 2017, its most visited attractions were Conwy Castle, which welcomed 218,907 people and Caernarfon Castle which had 206,185 visitors.
Part of the success in 2017 was put down the Year of Legends campaign which saw model dragons placed at sites around Wales.
In July and August, they helped visitor numbers rise by 15%, with 100,000 people seeing them at locations such as Caerphilly Castle.