Travel warning for New Year's Eve train and bus passengers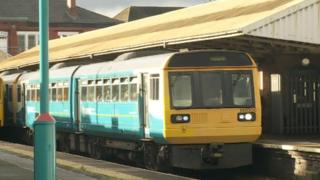 Rail and bus passengers are being urged to plan ahead as public transport services will shut down ahead of the new year celebrations.
Arriva Trains Wales said fewer trains will run from 20:00 GMT on Sunday, with services stopping at 22:00.
The company urged passengers to "ensure you can complete your journey" by the cut off time.
On New Year's Day, trains will start later than normal but there will be no Cardiff Valley lines or bus services.
Great Western mainline services between Swansea and London Paddington will operate a reduced hourly service on New Year's Day.
There is also New Year's Eve disruption for ferry passengers.
Irish Ferries cancelled three sailings between Dublin and Holyhead due to adverse weather conditions - the 08:45, 14:15 and 14:30 crossings.
It apologised for the inconvenience and said customers could be accommodated on a later cruise ferry sailing.
Arriva Bus in north Wales and Stagecoach in south Wales will not run services after 20:00 on New Year's Eve while there are no services on New Year's Day.
Megabus will operate a near-normal service over the new year and operate a special service from London after the new year celebrations to Newport, Cardiff and Cwmbran.
National Express' 890 bus service, which travels between Pembroke Dock and Cardiff, has been cancelled. Affected passengers have been asked to contact the company for assistance.
Cardiff Bus said it was running free evening and night buses on certain routes from 20:00 on New Year's Eve to 03:00 on New Year's Day. There will also be some day services on New Year's Day.
Newport Bus said some services would finish earlier on New Year's Eve, with the last bus being at 18:50. There will be no services on New Year's Day.