Welsh recycling should be 'less reliant' on exporting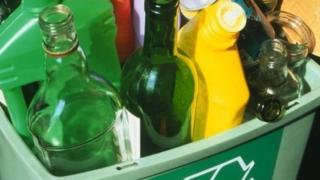 China's ban on foreign waste from this month has prompted calls to reprocess more recycled material in Wales.
A spokesman for the Welsh Local Government Association (WLGA) said we needed more reprocessors in Wales to be "less reliant on places like China."
But the WLGA leader said that the lack of overseas recycling sales would also lose local authorities money.
In 2014-15 Wales exported 26,850 tonnes of materials overseas for recycling including 4116 tonnes of plastics.
Local authorities send collected recycling waste to contractors, who pass it onto reprocessors to transform into new products.
Tim Peppin, who is responsible for regeneration and sustainable development for the WLGA, said there is a "circularity where currently a lot of the products we buy in the UK come from China and end up there again after recycling."
But he added: "One of the issues for them [China] is contamination of recycled waste, so they can only use a portion".
Mr Peppin stressed a need to develop more reprocessors in Wales so that "more of recycled material can be reprocessed in Wales...if we had more of that we'd be less reliant on places like China".
There are already some reprocessors in Wales such as NappiCycle, the nappy recycling facility in Carmarthenshire, and the UPM Shotton MRF paper mill in Deeside.
Rhondda Cynon Taf council also announced plans in December for a new Eco Park at its Bryn Pica Waste Management Facility to provide recycling services for local residents and businesses including mattresses and nappies and making recycled wheelie bins.
The council said the park would also collect and re-use waste materials produced on site to generate heat and electrical energy.
Mr Peppin added: "It is all very well focusing on the collection end but we need more focus on the design phase... using materials that are recyclable and reusable."
He said as resources become more scarce we needed to think more about not having a linear economy but a circular one instead - where materials from waste products can be supplied back to Welsh manufacturers.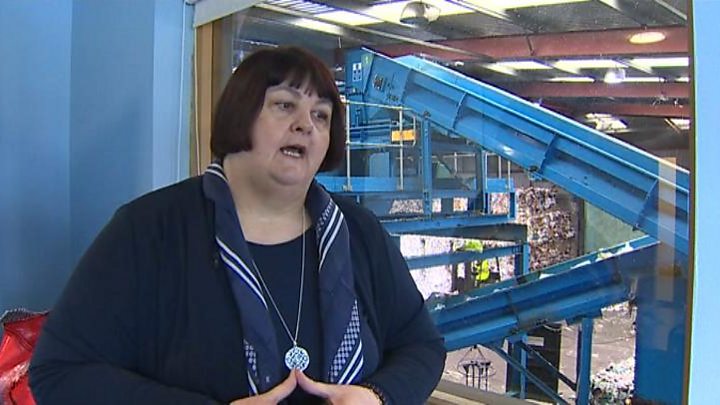 A Welsh government estimate in 2016 said that a circular economy would also have the potential to create about 30,000 jobs in Wales, with people employed to collect, transport and re-process materials, and could have an economic benefit of more than £2 billion a year.
In response to the ban in China a Welsh government spokesperson said: "This is a matter for Welsh local authorities. It is our long-standing policy to encourage the separating of waste from households prior to collection to ensure a higher quality of recyclable materials and improve their saleability."
"We continue to work with industry and local authorities to find better markets in Wales, especially for plastic."
But Cllr Debbie Wilcox, leader of WLGA, said China's ban would lose local authorities money and claimed about 19% of paper and cardboard in Wales previously went to China alone: "We have fewer places to send our recycled waste to, that means we're getting less money for the recycled materials."
"I don't think incineration is the way forward, a way forward is getting better processing in the UK in order to deal with it. But an even better answer would be to stop so much packaging in the first place."
"We're looking at the end product, the end pipe. What we should be doing is looking at the beginning of the product so we don't have so much waste in the first place."
Marcus Gover, CEO of the charity WRAP which runs the Recycle for Wales campaign said: "If we want UK recovered materials to be the first choice for foreign and domestic reprocessors and manufacturers who use this content in their goods, then we need both to improve the quality of the materials collected for recycling and the quality of the cleaned and sorted materials put up for sale."