Who owns distinctive ring found in Pembrokeshire mud?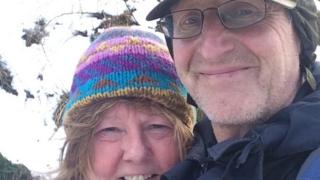 A couple who found a gold ring during a stroll in Pembrokeshire want to return it to its owner.
Keen walkers David Wakelam and Maggie Driscoll spotted the ring lying in mud at a gate between two fields in the Preseli Hills near Rosebush.
They say it bears a distinctive motif.
"The owner will identify him or herself by correctly describing the motif," said Mr Wakelam, from Llangrannog, Ceredigion.
"We found it sitting on top of the mud. I think the owner must have slipped and somehow the ring was lost as he or she fell.
"It looked like it hadn't been there long because it wasn't submerged."
The couple discovered it during an afternoon walk on 28 December.
Mr Wakelam added: "I don't know if it is very expensive but cost is not everything with something like this. It could have great sentimental value.
"We would be delighted to see it back on the owner's finger."
The couple have asked anyone who thinks they might be the owner to contact Cardigan police station, where they have reported their find.