Hepatitis C: '6,000 in Wales have virus without knowing'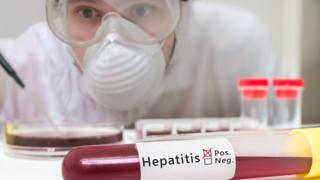 About 12,000 people in Wales are living with hepatitis C, half of whom have it unknowingly, a charity has said.
The Hepatitis C Trust said many people did not know sharing razors increased their risk of contracting it.
Wales aims to eliminate the virus as a major public health threat by 2030.
Dr Christopher Williams from Public Health Wales said: "Those at risk should consider seeking advice and testing, so they can benefit from treatment if needed."
The Welsh Government has put £12m towards the cost of a new range of medicines called direct-acting antivirals which are highly effective in clearing the virus from infected patients.
The Hepatitis C Trust said while many people understood drug takers were at risk of contracting the virus, less well-known was that sharing household items such as a toothbrush or hair clippers also increased people's chances of getting it.
Dr Williams, a consultant epidemiologist for Public Health Wales, said: "Newer treatments are highly effective at treating hepatitis C and without the side-effects previously caused by interferon therapy.
"The NHS choices website states that combinations of tablets now have a cure rate of more than 90%."
The Hepatitis C Trust will be at St David's Shopping Centre in Cardiff on Saturday, explaining how people can get tested and treated.
What is hepatitis C?
A virus that causes inflammation of the liver
Symptoms can take years to develop, but it can cause liver cancer and even be fatal
About one in five infected people will clear the hepatitis C virus from their body naturally within six months of infection
Many people never develop symptoms of liver disease and may not know they have been infected
About 20% of those infected develop cirrhosis (scarring) of the liver within 10-30 years, which can result in liver failure