North Wales hospitals set to miss infection targets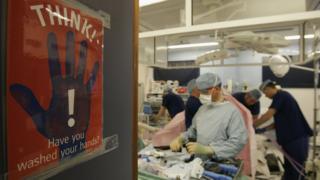 Hospitals in north Wales will miss targets to tackle deadly infections again, officials have admitted.
The infection rates have been described as "unacceptably high" by the Betsi Cadwaladr University Health Board.
There were 48 cases of Clostridium difficile (C.diff) in October and November, a report has revealed.
Since April last year, 14 patients in the region had C.diff recorded either as a cause of death or playing a role - up from nine from the previous year.
Nursing directors accepted that C.diff infections are set to overshoot a target of 120 cases for 2017-18 by a full 50% - with an estimated 181 cases by the end of March.
The board also missed the target it set itself in 2016-17 for its three hospitals at Wrexham, Bangor and Bodelwyddan.
Report author Tracey Cooper, who as assistant director of nursing is responsible for infection control at the health board, said root causes for the C.diff problems included: "Inappropriate antimicrobial prescribing, delayed isolation of patients with diarrhoea, the need to improve hand hygiene, and concerns over cleanliness standards."
She added: "Action to address all of these issues continues."
The health board said a 90-day programme to tackle the problem head-on would be launched in January.
Measures include:
Review how diarrhoea is assessed and how single rooms are prioritised for isolating patients
Review of the standards for cleaning
Improve care of invasive devices, such as catheters
The health board recorded the best performance in Wales for tackling drug resistant and sensitive strains of the superbug Staphylococcus aureus but said rates remained "not acceptable".
In September 2017, there were 17 cases of infection, pushing the rate to almost 27.5 per 100,000 people. The target is 20 per 100,000.
The health board has been told the 90-day plan will also help tackle those infections levels.
"This plan aims to engage all staff, to ensure every member of staff understands their personal responsibility to protect patients from infection, and has the knowledge and tools to do this," stated Ms Cooper.
"Members of the Board will need to actively and consistently support this plan, and hold staff to account to ensure the programme is delivered at pace to achieve the improvement needed."
In 2013, Wales' largest health board, which cares for 694,000 people in north Wales, was severely criticised for how it handled an outbreak of C.diff after 30 patients died while suffering with the infection at Glan Clwyd Hospital in Bodelwyddan.
The health board also remains in special measures, imposed by the Welsh government after the scandal of patient abuse at the Tawel Fan mental health unit was uncovered at Glan Clwyd in 2015.