Golden eagle lands on Ton Pentre woman's windowsill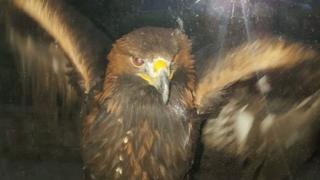 A golden eagle caused a flap after landing on the windowsill of a house in Rhondda Cynon Taff.
Rebekah Norton, from Ton Pentre, published pictures on Facebook of the huge bird of prey staring through her window.
Appealing for information, she posted: "Has anyone lost a MASSIVE bird? Currently sitting on my window."
In an update, she later said: "Apparently it's a golden eagle. Owner found."
In the pictures the eagle can be seen wearing leather anklets used in falconry.
According to the RSPB, golden eagles can have a wingspan of up to 2.2m (7ft 2in) and weigh up to 6.6kg (14lb 9oz).