Electric car registration in Wales rises by 35%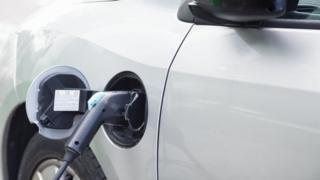 The number of new electric and hybrid car registrations in Wales rose by 35% in 2017 compared to the previous year, a campaign group has said.
Wales is ahead of the UK average of 27% growth, figures from the Go Ultra Low partnership show.
The joint UK government and industry campaign body said it had been a "landmark year".
The RAC Foundation said the figures were good news, but were still a "tiny fraction" of total car use.
Powys saw the highest percentage rise in Wales at 66.7%, followed by Cardiff and Penarth combined at 53.3%.
In absolute terms, the number of electric cars in Wales remains tiny.
The 35% rise in new registrations represents a rise from 565 in 2016 to 760 in 2017.
Overall there are nearly 2,500 plug-in vehicles in Wales and 439 charge points across Wales, Go Ultra Low has said.
A report from June 2017 for transport organisation RAC Foundation said there were 4,476 charging sites across the UK with 12,849 individual connectors.
Poppy Welch, head of Go Ultra Low, said electric vehicles represented 1.83% of all UK traffic, but believed the outlook was positive.
"The numbers are growing. We're up 27% on last year which is quite a healthy increase," she said.
She added: "Over the next few years, manufacturers are bringing out more models. Infrastructure is improving and the government wants to see the end of conventionally fuelled petrol and diesel vehicles by 2040.
"Things are definitely going in the right direction. A lot of the concerns are about infrastructure meeting the demands of electric vehicles."
Philip Gomm from RAC Foundation said: "We all want to see the cleanest possible vehicles driving on our roads and on the face of it these figures are good news, but we need to keep things in perspective.
"Plug-in vehicles remain a tiny fraction of the car fleet in Wales, which totals around 1.5 million.
"While the number of ultra-green models available in the showroom is on the rise, consumer concerns remain about the four Rs: retail price, refuelling, range and residual value.
"That the Westminster government continues to subsidise the sale of these cars by as much as £4,500 each shows that this remains a fragile market.
"We urge ministers to think very carefully before they consider reducing the incentives on offer."