Prince Harry and Meghan Markle to visit Wales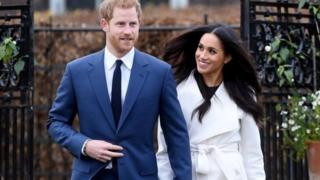 Prince Harry and his fiancee Meghan Markle will celebrate Wales' heritage during a visit to Cardiff, it has been announced.
The couple will attend a Welsh Culture Festival at Cardiff Castle on Thursday 18 January.
They will also visit two organisations bringing sport to young people of all social backgrounds.
On Tuesday, the couple received cheers while visiting non-profit broadcaster Reprezent FM in south London.
Their first culture stop during their visit to Cardiff will be at the historical castle.
On their tour of the building, the couple will see performances from musicians and poets, meet prominent athletes and learn about how organisations are promoting the Welsh language and cultural identity.
Ms Markle and Prince Harry will then visit Star Hub, a community and leisure centre in Tremorfa to see how the centre uses sport to engage young people.
They will also visit StreetGames, a charity Prince Harry has previously worked with, to see how they are helping to bring sport to young people.