Prince Harry and Meghan Cardiff Castle visit open to public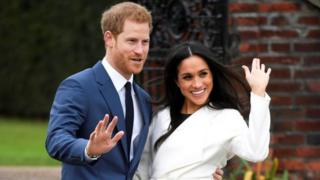 The public will have an opportunity to meet Prince Harry and his fiancee Meghan Markle during their first official visit to Wales on Thursday.
The couple will take a tour of Cardiff Castle, arriving at about 13:30 GMT, followed by a private visit to Star Hub community group in nearby Tremorfa.
The castle gates will open at 09:00 and free spaces will be allocated on a first come first serve basis.
Well-wishers are advised to use public transport to travel to the city centre.
No road closures are planned for the visit.
Cardiff council leader Huw Thomas said the authority was delighted to welcome the couple to the city and "extend a warm Welsh welcome".
"Their visit will aim to showcase some of the rich heritage and culture that we are very proud of here in Cardiff."
Cardiff Lord Mayor Bob Derbyshire said Cardiff was "very proud" to welcome the couple.
"We hope this will be the first of many for the couple to the Welsh capital," he said.
On their castle tour, the couple will greet the public before seeing performances from musicians and poets, meet prominent athletes and learn about how organisations are promoting the Welsh language and cultural identity.
They will then visit Star Hub, a community and leisure centre, to see how the centre uses sport to engage young people.
They will also visit StreetGames, a charity Prince Harry has previously worked with, to see how it is helping to bring sport to young people.