Hundreds of Welsh bridges are substandard, warns RAC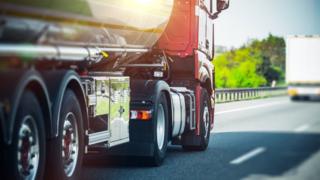 Hundreds of road bridges in Wales are not fit for modern-day traffic demands, the RAC has warned.
A survey found 361 out of 6,694 council-maintained bridges did not meet Department for Transport standards for capacity and weight restrictions.
It means they are not fit to carry the heaviest vehicles on the roads.
Newport had the highest proportion of substandard bridges (30%) followed by Denbighshire (22%) and Conwy (20%).
Carmarthenshire and Powys councils had the highest number at 62 each - however, this represented 8% and 5% of their totals respectively.
A Denbighshire council spokesman said its figure appeared high because it has "a detailed understanding of the conditions" of its bridges.
"The information has enabled us to identify works necessary to make sure that our bridges remain operational and we have a 10 year investment plan to address those works," he said.
A Conwy council spokesman said its 60 substandard bridges were "in the process of being reassessed" and "capital business cases are submitted on an annual basis to secure funding to carry out strengthening works using a risk based approach".
The other councils have been asked to comment.
Flintshire, Anglesey and Pembrokeshire were the only councils to have no substandard bridges.
Philip Gomm, the RAC's head of external communications, said bridges were not "about to collapse" but the survey highlighted how many were incapable of supporting large vehicles such as 44-tonne lorries.
"These structures, many of which will have been built hundreds of years ago, are under relentless and growing pressure from both human activity and the elements," he said.
The RAC estimated the cost of bringing all of Wales' bridges up to a good standard would cost about £98m.
Welsh councils said it was their intention to return 48 bridges to "full load capacity" in the next five years.
Steve Gooding, director of the RAC Foundation, said the "real worry" was the rising cost of upgrading bridges came at a time when councils were spending less to maintain their bridge stock.
Graham Cole, deputy chairman for the ADEPT National Bridges Group, said bridges "don't just cross obstacles", they linked communities and "help unlock economic growth".
"As such they are very valuable assets that deserve ongoing care and maintenance," he added.