Betty Guy: The grandmother murdered by two family members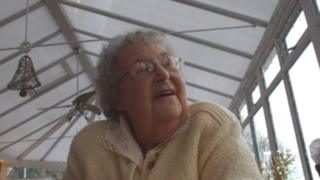 For six years, Penelope John and Barry Rogers thought they had got away with murder.
In November 2011, they put crushed tablets into a glass of whiskey and handed it to 84-year-old Betty Guy - John's mother and Rogers' grandmother.
Then, once she was under the influence of the alcohol, diazepam and zopiclone, Rogers took a pillow and pressed it against her face.
But Mrs Guy fought back, prompting Rogers to stop and pour himself a glass of whiskey before going back to finish the job.
John had her mother cremated and scattered her ashes at the bottom of her garden, telling the trial she visited her mum every morning.
The pair told people Mrs Guy was old and had been ill, and for four years they carried on as normal.
Then, in 2015, police got a tip-off from an ex-partner of Rogers who went to officers after he told her he and his mother were involved in the death of his grandmother.
Indeed, it seemed the biggest obstacle facing the pair hoping to get away with the killing was the fact Rogers could not keep his mouth shut about his involvement.
As well as the confession to Sandra Adams in 2015, Rogers also told his ex-wife, Lisa Watkins, whom he married in 2014.
She told the court he said "his nan had asked him to help her pass".
Rogers claimed it was all done for attention - something he craved due to an abusive relationship he had with his father.
But once Dyfed-Powys Police had been tipped off, officers set up covert recordings to listen to the conspirators.
They picked up Rogers telling his mother: "We deny it, they can't prove anything because there's no evidence, it's all hearsay. It's me that's done the act... you got nothing to worry about mam."
John was recorded saying: "She just died. She was old, she was ill and she just died."
They claimed she had suffered from stomach and bowel cancer but, while the retired nurse did have health complaints, there was nothing in her medical history to suggest she had cancer and was not terminally ill.
So what would prompt two people to take the life of a supposedly beloved relative?
Money is often assumed to be at the heart of killings of this nature - but Mrs Guy's friends said she lived in a former council house and had no money to speak of.
One of Mrs Guy's friends, Betty Wilson said she had to help Mrs Guy get pension credit, income support and housing benefit.
She described Mrs Guy as a "lovely lady, always cheerful," but said her daughter was "a strange woman" who dominated her mother and would "fuss over her all the time".
John told the jury her mother depended on her and they had an "amazing" relationship, saying she would visit her up to four times a week.
But Mrs Wilson described her friend "as a very independent woman" who only got help from her relatives with jobs around the house.
John claimed she only realised her mother had died when she woke up in the middle of the night to find the bedroom light was still on.
She said Rogers had not arrived at the house until after her death.
However, they were convicted of murder at Swansea Crown Court on Tuesday.
Following the verdict, Mrs Guy's daughter, Lorraine Matthews, said the family was "satisfied that justice has prevailed", adding "now we can close this very sad chapter in our lives".