Nazir Afzal pledges to make Wales 'safest place for women'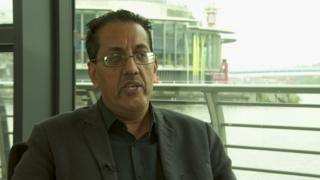 The man who prosecuted the so-called Rochdale grooming gang has pledged to make Wales one of the safest places in Europe to be a woman.
Nazir Afzal starts his new role as one of the Welsh Government's new advisors for violence against women, domestic abuse and sexual violence on Monday.
He told BBC Wales' Sunday Supplement programme Wales had some "phenomenal" people working in the field.
But he said agencies needed to share information and learn from each other.
Mr Afzal, the former chief Crown prosecutor for the north-west of England and depicted in the BBC One drama Three Girls, has prosecuted some of the most high profile sexual abuse cases in recent years.
He said that while he was dealing with the Rochdale case, where Asian men were jailed for grooming teenagers, "people were focusing on the ethnicity of the perpetrators and suggesting only one community was responsible for this type of behaviour".
But he said: "Having prosecuted perpetrators from more than 60 countries and [dealt with] victims from more than 50 countries, I know there isn't any community where women and girls are safe.
"It's a power thing and power sadly infects every community and therefore our responsibility has to begin with listening to victims and survivors."
Speaking about how to tackle the problem, Mr Afzal said: "The reality is you start with the victim.
"We need to encourage more people to come forward - and we are. So you're seeing, in Wales for example, between 2013 and 2015 there was a 20% increase in reported violence against women and girls.
"We need to encourage more people to come forward and then, when they come forward, we need to provide them with support.
"You've also got to work with the perpetrators and future perpetrators and I think the answer to everything is education."
Mr Afzal said one of his key roles will be to ensure agencies are sharing information.
"If you look at every serious case review I've ever seen in my life in the last 20 years, it starts off with 'recommendation one: information should have been shared'.
"Well, for crying out loud, why don't we deal with that at the outset?"
But he said he was optimistic for the future.
"You have to be optimistic in this business because there are victims groups around the country, but particularly in Wales, who are doing phenomenal work for nothing.
"They're doing it with literally no money in their back pocket, they're working as volunteers protecting women and victims and potential victims, and they need us to be optimistic for them because they aren't doing it because they're told to do it or because it's a job.
"They do it because it's absolutely essential as a society."
Mr Afzal will take up the new role alongside Yasmin Khan, who founded the forced marriage and honour based charity, the Halo Project.
He said: "We should be valuing people who work in the public services and my role, and the role of Yasmin Kahn, is to make sure the agencies learn from each other, share information and work better together.
"I made a bold statement about how Wales should be the safest place to be a woman in Europe.
"That is doable because you've got some phenomenal people working in this field. What they need to do is to learn from each other and share more."