Bipolar artist's Cardiff exhibition 'raising awareness'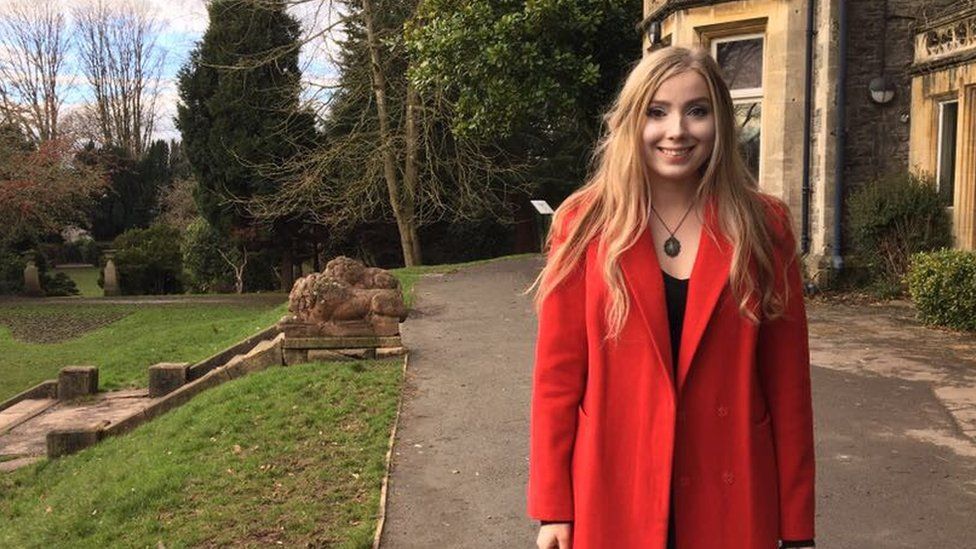 An artist who has had bipolar disorder since she was 11 is hoping her first solo exhibition will help people understand the condition better.
Cerys Knighton, 23, from Porthcawl, Bridgend county, created artwork from a young age but lost touch with it after starting university.
After struggling with her mental illness, she realised how much art had been a support.
Her exhibition Drawing Bipolarity is on display at Insole Court in Cardiff.
"Often when people think about bipolar they think about quick changing moods, erratic behaviour," she said.
"I'm hoping those misconceptions can be overturned in a way that's accessible. I think it's damaging to both those suffering and those who want to help.
"I mainly suffer with depressive episodes and those episodes can last anywhere between six months and eighteen months. They're very long episodes, ongoing."
She created the 16 pieces of fine art through a form of ink work known as pointillism - creating texture and an image with a series of dots.
"One of the problems is often when you're trying to change people's minds about things, one of the risks is being too aggressive about it because you alienate the person you're trying to explain something to," she added.
"So art is great because it's not an aggressive way of putting the point across, it creates that empathy I think.
"I hope [the exhibition] gets people thinking. Using images that are accessible... is very much a way of creating that bridge for empathy on both sides."
Mark Smith, chairman of Making Minds, a voluntary organisation which supported the exhibition, said he hoped "her journey and experiences will help others gain a better understanding" of bipolar disorder.