Women's suffrage: New coin to mark 100 years of voting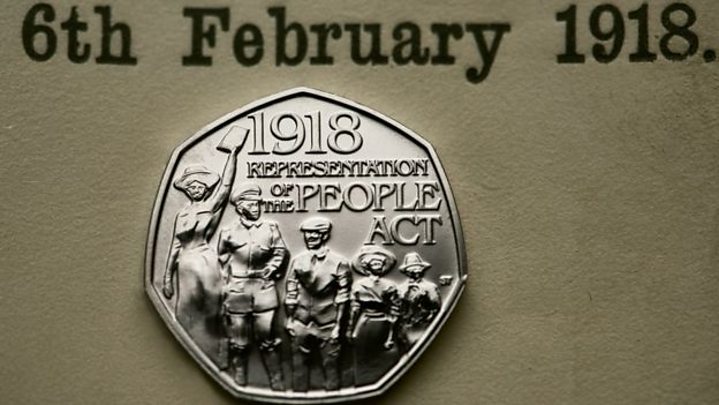 The great-granddaughter of suffragette Emmeline Pankhurst, has struck a new coin to mark the 100th anniversary of women being granted the vote.
Dr Helen Pankhurst visited the Royal Mint in Llantrisant, Rhondda Cynon Taff, to use a press to imprint the new design onto the 50p coin.
It commemorates the centenary of the Representation of the People Act, passed on 6 February 1918.
The act gave the vote to women over the age of 30 and "of property".
It also gave the vote to servicemen over the age of 19 and other men over 21.
Speaking at the coin's striking, Dr Pankhurst said: "My great-grandmother Emmeline Pankhurst was a key suffragette, campaigning for women's suffrage.
"I think she would have been happy that the coin is here to mark the struggle.
"Suffragettes actually used to deface coins and mark them with 'Votes for Women' so there is an element of justice in having an official coin.
"It's creation is also very timely given that gender equality is so in the news."
The 50p coin, which will be in general circulation later this year, depicts a woman in a celebratory pose holding her ballet paper aloft, alongside a soldier, suffragette and two other men.
Stephen Taylor, a Royal Mint graphic artist who designed the coin, said: "My design uses the familiar idea of a British queue, to suggest a line of people waiting to cast their votes at the ballot box.
"I paid careful attention to their poses and clothing, showing the different classes of society finally being given a political voice after years of struggling to be heard."