Newport was Wales' most congested city in 2017, figures show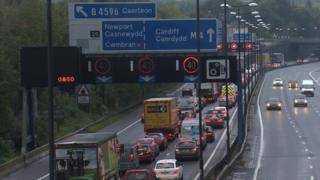 Newport was the most congested city in Wales in 2017 with motorists spending an average of 24 hours a year in traffic jams, new figures have shown.
But drivers in Cardiff were worst hit financially, with jams costing them on average £1,119 in lost time and fuel.
Wales' most congested road was the A470 where the average speed during rush hour was just 7mph (11kph).
Traffic analytics firm Inrix's study found the total cost of congestion in Wales in 2017 was more than £1.8bn.
Inrix's 2017 Global Traffic Scorecard analysed congestion in 111 cities and towns.
After Newport, the other places in the top five congested areas in Wales, based on how much time drivers spent in traffic, were Cardiff, Wrexham, Pentir in Gwynedd, Deganwy in Conwy and Bridgend.
The worst five "corridors", according to the research, were all in Cardiff - the longest delays on the A4161 Friary Gardens to Leckwith Road.
Dr Graham Cookson, chief economist at Inrix, said the cost of congestion was "astonishing", taking billions out of the economy and impacting businesses and drivers.
"With the Office of National Statistics showing more cars on the road than ever before, we need to consider innovative new approaches to solving the issue," he said.
"Increased flexible working or road charges have potential, however, transport authorities should be looking to exciting developments in data analytics and AI which promise to reinvent our approach to traffic management."
Dr Cookson added: "In comparison to the rest of the UK, Welsh drivers fair well spending 17 peak hours a year in congestion on average.
"Congestion is costing the Welsh economy almost £2bn a year, with Cardiff accounting for more than half of this cost.
"The Brynglas Tunnel causes significant amount of congestion both along the M4 and on connecting roads and towns, with Newport particularly affected by the bottleneck at the tunnel."
The Inrix 2017 Global Traffic Scorecard calculates the percentage of time drivers spent in traffic at different periods of the day or week and on different parts of a city's road network.
Cities are then ranked by the amount of time an average driver spends in congestion during peak hours.
A Welsh Government spokeswoman said: "The coming years will see multi-billion pound Government investment in our infrastructure - including major improvements to the M4, A55, A40 and A494.
"We are also taking forward programmes to address congestion pinch points and provide safe overtaking opportunities on the trunk road network."