Brecon to Pontymoile lock keepers sought to help run canal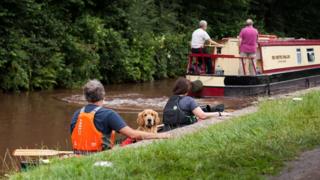 Volunteer lock keepers are being sought to help boaters navigate the Monmouthshire and Brecon Canal.
The Canal and River Trust wants people to carry out the role on the 35-mile (56km) stretch from Brecon, Powys, to the Pontymoile basin in Pontypool.
The role includes helping passing boaters, welcoming visitors and aiding canal maintenance.
Full training will be provided and volunteers would work shifts throughout the year.
The trust said those who sign up would help keep the historical tradition of lock keeping alive along the 200-year old canal.
Caroline Kendall, Canal and River Trust volunteer development co-ordinator, said: "The lock keeper is probably the most iconic role on the waterways and we're on the lookout for people to come and help everyone who is using the water and towpath.
"It's a great role for anyone looking to work outdoors and meet plenty of people. In many ways the lock keeper is the friendly face of the canals and rivers. It can be hard work, but hugely rewarding.
"You don't need any previous experience so I'd encourage anyone looking for a new challenge to get in touch."
Applications are open and training will begin in March.