Ex-player Mark Aizlewood and others guilty of football fraud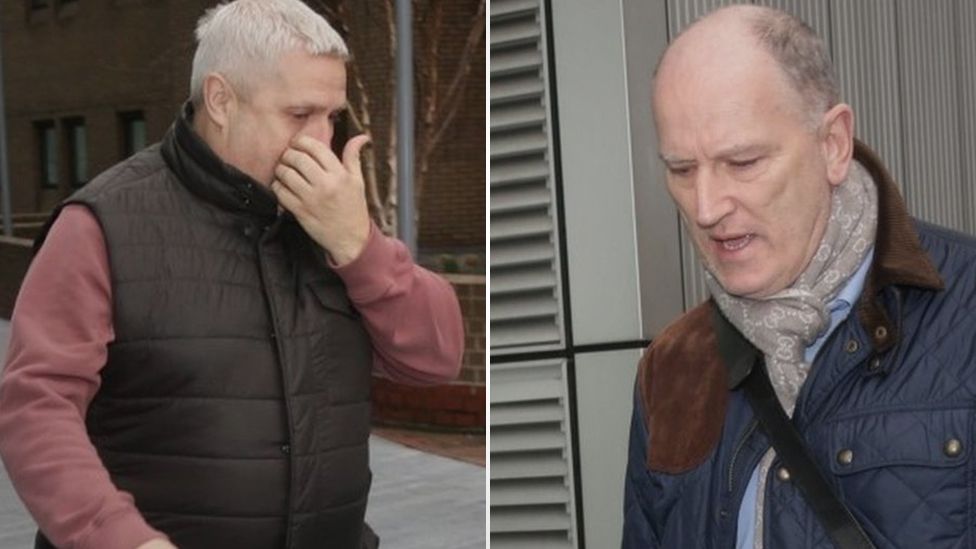 Former professional footballers and two other men have been found guilty of fraud charges after taking £5m in a fake apprenticeship scheme.
Ex-Wales defender Mark Aizlewood, 57, and former Cardiff City player, Paul Sugrue, 56, invented false players to claim the money.
Fellow director Keith Williams, 45, from Anglesey, and Jack Harper, 30, of Merseyside, also took part in the scam.
They denied the charges during a four-month trial at Southwark Crown Court.
Two men - Christopher Martin, 53, of Catmore, West Berkshire, and Stephen Gooding, 53, from Bridgwater, Somerset - previously admitted their part in the youth training scheme fraud.
Judge Michael Tomlinson described the case as "very serious" and adjourned sentencing until 26 February, releasing all the men on bail.
Aizlewood was seen by investigators as a main player of the scam, using his contacts to gain credibility - he played for Leeds United, Charlton Athletic, Cardiff City and Bristol City.
More recently he was manager of Carmarthen Town, although the club terminated his contract after the verdict.
Mark Aizlewood faced two counts of conspiracy to commit fraud by false representation. He was convicted of one count but cleared of the other
Paul Sugrue was convicted of two counts of conspiracy to commit fraud by false representation
Keith Williams was found guilty of two counts of conspiracy to commit fraud by false representation
Jack Harper was found guilty of fraud and using a false instrument. He was not guilty of conspiracy to commit fraud by false representation
Christopher Martin admitted two charges of conspiracy to commit fraud by false representation before the trial
Stephen Gooding admitted one charge of conspiracy to commit fraud by false representation
The court heard Aizlewood, of Aberdare, who won 39 caps for Wales, and Sugrue, from Cardiff, set up Luis Michael Training Ltd as a football-based apprenticeship scheme with Williams and Martin.
But it targeted colleges, charities, football clubs and sports associations between 2009 and 2011, fraudulently obtaining about £5m of public funds, earmarked by the Skills Funding Agency to create apprenticeships for vulnerable young people
They promised to provide full-time training in football coaching as well as work experience and a £95 weekly salary to 3,800 students.
Instead, the court heard that for every apprentice enrolled the defendants claimed money provided by the UK government.
Hundreds of the students on their books did not even exist, while some lived at the opposite end of the country from the scheme or were doing just two to three hours of study a week.
The men were charged after a whistleblower alerted Gwent Police in November 2011 and the Serious Fraud Office spent more than four years collecting 5.2 million pieces of evidence and interviewing 600 people.
Investigations found that between October 2009 and December 2010, Sugrue pocketed £516,000, Aizlewood £424,000, Gooding £448,000, Harper £311,000, Williams £295,000 and Martin £249,000.
The SFO said that money should have gone towards young apprentices "who were almost all very vulnerable young people because they were not in employment, education or training".
"They should have been doing the learning full time, normally 30 hours a week, but in most cases it was more like two or three," it said in a statement after the verdicts.
"Many of them were living the dream thinking they would be coaches for clubs like Manchester City and gain an NVQ - but it was a farce.
"As an ex-international footballer, Mark Aizlewood knew the industry and how the system worked and his gravitas helped the company get in with colleges, football clubs and learners.
"As a result of the failure of Luis Michael Training, many of the learners were having trouble putting food on the table for their families.
"They then had to attend court and were nervous and scared of what that meant. Instead of transforming their futures, this ordeal had made many of them even more vulnerable."
SFO Director David Green added: "These men fraudulently diverted taxpayers' money away from schemes which were intended to transform young people's lives.
"Colleges targeted lost more than £3.5m to the fraud, causing serious financial hardship and reducing funding available for other school services, classes and courses.
"Nearly 150 football clubs, sports associations, and charities were also tricked into providing services to Luis Michael Training, never receiving payment for work provided, hampering their ability to support grassroots community projects and other outreach programmes."