Bowel cancer 'never crossed my mind' before diagnosis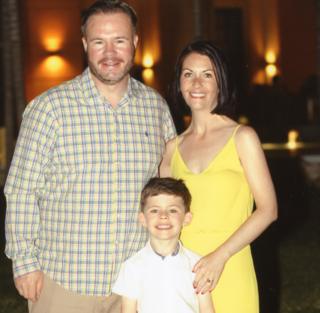 Caroline Richards was just 34 when she found out she had bowel cancer.
She thought symptoms such as a swollen belly and blood in her stools were related to the birth of her son Danny.
But when she went to the doctor, they immediately found a tumour, with her adding: "cancer never crossed my mind."
Charity Bowel Cancer UK wants improvements on the "alarming" number waiting too long for tests. The Welsh Government said more people are being seen within target times.
Two months after her first visit to her doctor, Caroline, from Bridgend, was diagnosed with stage four bowel cancer.
"At that point I was told I had 18 months to live. I was told 'this is terminal' and the chemo was just palliative," she said.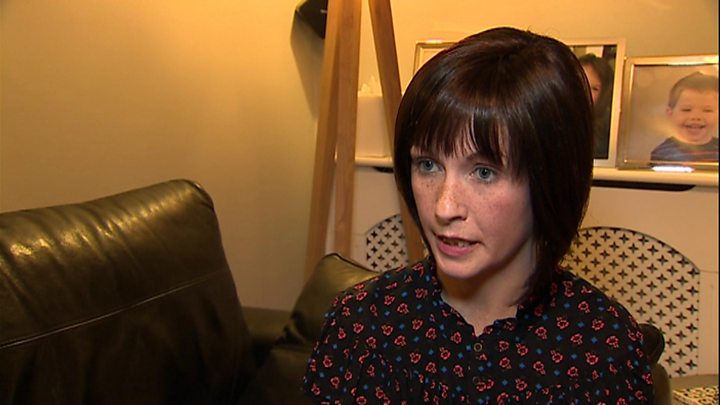 That was four years and two major operations ago.
Now a charity has called for action to improve the early diagnosis of bowel cancer, saying the survival rates in Wales are "completely unacceptable".
Bowel Cancer UK has pulled together a report with a spotlight on issues in Wales.
The charity wants the Welsh Government to create targets for improvements.
Figures out last autumn showed cancer survival rates are improving but specialists said Wales still had a "long way to go" to match the best in Europe.
It ranked 25th out of 29 for bowel cancer survival, below Slovenia, Portugal and Estonia.
Experts in Wales have been looking at lessons learned in countries such as Denmark, and pilot schemes have started in the Cwm Taf and Abertawe Bro Morgannwg health board areas for GPs to refer patients with less obvious symptoms to diagnostic hubs - with all tests being done in one visit.
Getting patients to see doctors earlier is one issue, but Bowel Cancer UK said endoscopy units in hospitals are struggling to cope with demand for tests.
Bowel Cancer UK points to latest waiting time figures which showed more than 1,800 people were waiting longer than the eight week target set by the Welsh Government for colonoscopies or flexi-sigmoidoscopies, which can detect bowel cancer.
About 15% of patients - more than 500 - waited more than 14 weeks for a colonoscopy in November.
A further 18% (478) were waiting the same period for a flexi-sigmoidoscopy.
The charity called this "alarming".
There are also particular challenges in picking up early diagnosis of younger people, particularly issues around awareness of symptoms and for alarm bells to ring with GPs.
About 120 people under 50 get bowel cancer in Wales every year.
The charity also highlighted the case of Sam Gould, a UKIP activist who died last summer at the age of 33 but had made a video about the importance of getting an early diagnosis.
Lowri Griffiths, Bowel Cancer UK's head in Wales, said early diagnosis was "critical"
"Every day I hear from patients who have experienced symptoms but struggle to be referred for diagnostic tests, or get access to these tests as quickly as possible," she said.
"I also hear from clinicians who have difficulty coping with the increasing demand placed on services."
'Very important'
She wants the Welsh Government and NHS Wales to work together to set a timescale and create targets for improvements.
A Welsh Government spokeswoman said: "Despite increasing numbers of people being diagnosed with cancer, more people are being treated within target time and cancer survival continues to improve.
"NHS Wales is working hard to deliver the commitments we have set out in our Cancer Delivery Plan, which has particular emphasis on improving quality, diagnosing cancer earlier and ultimately improving outcomes for patients."
Mrs Richards has been living with bowel cancer for four years and is now 38.
She gave up work with Peacock's clothing company when she had a terminal diagnosis.
Her cancer was in remission for 18 months after an operation in a hospital in Basingstoke. But it returned late last year.
"I've been in chemo again," she said.
"Early diagnosis is so very important - if it's caught early enough, almost 95% of bowel cancers would be cured. It was not something I thought I would get at my age, at 34. I considered myself fit and healthy, you don't think about seeing a doctor."
Caroline wishes there was more face-to-face interaction with other younger people with the disease, but said Twitter has been "amazing".
She has also benefited from a support network through social media via Bowel Cancer UK's website.
She urged anyone who has even the vaguest of symptoms to see their GP.
"Don't be afraid to see you doctor, it's not a waste of their time, if they catch bowel cancer in time, it can be cured," she said.